Is Evgeni Malkin disgruntled with the Pittsburgh Penguins management right now? Yes he is, even more so than Sidney Crosby was a few years ago when the Penguins traded Crosby's best friend on the team Colby Armstrong. The Penguins have not been able to sign Malkin's best friend and mentor on the team, a guy who took Malkin under his wing and taught him the NHL ropes, Sergei Gonchar.
Malkin is going to have to grow up and deal with the fact that Gonchar is most likely gone and the fact that this will happen his entire NHL career.  Crosby got past it, so will Malkin.
I've always prided myself on my ability to read into what someone is trying to say. This weekend when Rob Rossi a writer for the Pittsburgh Penguins newspaper sponsor Trib Total Media suggested the Penguins field offers for Malkin because "It's more than the $21.4 million in salary-cap space the Penguins have committed to Sidney Crosby, Evgeni Malkin (each at $8.7 million) and Jordan Staal ($4 million) each of the next three seasons" One thing hit me hard with this statement is the fact that Penguins GM Ray Shero was the one that made the decision to sign these three players for this duration.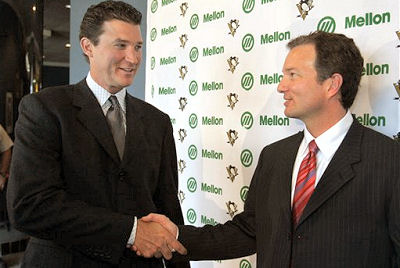 Rossi erroneously suggests that because of the money tied up in Malkin that "One-and-done doesn't sit well with an ownership that spent to the salary-cap ceiling. Mario Lemieux and Ron Burkle want to win again next season and for seasons to follow" call me crazy once again, but I would bet all that I own that Ray Shero consulted Lemieux and or Burkle before he spent the 100 million of their dollars to sign these three players for the future. It seems to me that Rossi is also saying that Lemieux and or Burkle are also stupid for signing Malkin for that amount of money.
Rossi also incorrectly postulates that "To give up Geno, the Penguins must get the world in return. If they get it, their Cup window won't be limited to three seasons, as it will be with the three-center plan" So losing in the seventh game in the second round of the playoffs after this great group of centers lead the Penguins to two finals in a row means it's time to break up the team before they even hit their prime?  Either Rossi lacks hockey knowledge or there is something else behind this suggestion.
Malkin has disliked Rob Rossi for a long time and it culminated with Rossi's January article that suggested that "Malkin paid like Crosby; needs to play like him" which showed Rossi's true colors with the comments "I know that Malkin understands English well enough to routinely give Crosby a break from granting interviews…" and "He (Malkin) chooses not to do much more than just play hockey".
The true reason for Rossi's suggestion that the Penguins trade Malkin away is that he is trying to get back at Malkin for shunning him. In Rossi's attempt for revenge against Malkin, he unwittingly said that Shero and Lemieux are stupid for signing the three centers for the amount of money that they did. Rob Rossi has lost his integrity because of a petty jealousy and the Trib may want consider which is more important,  their relationship with the Penguins or their relationship with an incompetent journalist.  Only time will tell how this is going to sit with the Penguins organization.   
If you still think Rossi has integrity, here is what Rossi said after winning the cup last year – he even capitalized it in his column: "THREE CENTERS WORKS FINE – Nobody will speculate the Penguins are wrong to commit $21.4 million in cap space to Cs Sidney Crosby, Evgeni Malkin and Jordan Staal over the next four seasons."