Holy bad bounces! I sure am glad that the Penguins got that game out of their system now rather than in a later round. Word on the street is that there are more than a few fans upset with Fleury's play last game, rightfully so, but it's not all his fault. He let in two soft goals in my opinion, the other 3 goals, all on rebounds, were the defensemen's fault. All three goals had a Senator skate in untouched then grab the rebound and put it into the net.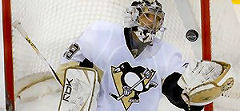 Every one is talking about how bad the Pens played and nobody mentioned Crosby & Malkin looked fantastic.
In all the time that I have written for PenguinPoop I have only called out two players for not playing to their capabilities or for dogging it. That was Ryan Whitney who I tormented to no end and Miroslav Satan. I now have a third player that I believe isn't making the cut. You can read about it here: The Penguins need to bench Alexei Ponikarovsky
In the Gameday Poop on April 8th I questioned whether there was a flu going around the locker the last few weeks that could have the players a bit worn down. Yesterday the Penguins called up goaltender Brad Thiessen from the AHL because backup Brent Johnson has the flu. Since Thiessen wasn't immediately available the Penguins video guy Jimmy Britt got to suit up and play goal in practice.
I can't tell you how many text's I got wondering if they called up Thiessen  because they were benching Fleury.
PenguinPoop writer STH35 who's been a season ticket holder for 36 years has this to say:  "Even though Johnson has proven to be a good backup, anyone who thinks that he gives us a better chance to win than Fleury knows very little about hockey."  read the rest here: Penguins Have to Make Some Changes
These are the main lines the Pens practiced with yesterday:
Kunitz-Crosby-Guerin
Ponikarovsky-Malkin-Dupuis
Kennedy-Staal-Cooke
Rupp-Talbot-Adams
Speed of lightning, roar of thunder…Underdog. The underdogs are coming up big so far in the first round. Both #1 seeds in the east and the west both lost to the #8 seeds and the underdogs so far won 4 of the 7 games. This makes me feel a little bit better about the Pens loss, not much though.
There is a slight chance that the flipped switch thing got over hyped.  Anything less than an 6-0 drubbing of the Senators and Pens fans would say there's no chance of a Cup win this year.  I still believe.
With teammates like that who needs enemies. Ottawa Senators forward Milan Michalek tore his ACL in Wednesdays game and will require season ending surgery. His own teammate, Jeff Fisher is the one that hit him in the second period.
I was watching the Capitals lose to the Canadiens last night on Versus and Billy Jaffe one of the announcers was talking about how Ovechkin didn't have one shot on net all game and said: "This hasn't been the high octane Ovechkin, this has been '87' great put it that way, he hasn't been able to bring it as much" Mr. Jaffe might want to just watch hockey and stop making stupid comments.
OK it's time to play a PenguinPoop round of GOOD or EVIL. I have two videos below and I am keeping track of which one gets viewed more. I will let you know on Sunday's Gameday Poop if our fans are mostly good or dastardly evil.  *It may not be good to watch the Evil at work or around youngsters.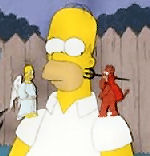 GOOD


Watch kids from Plum High School dance around in Penguin jerseys and holding Penguins signs all to the Black Eyed Peas

EVIL
Watch Trottier and Stevens swear like sailors at Brian Bellows done like the new History Will be Made Commercials
High noon at the Court House. The city is having a rally at the Court House downtown at noon today. Kardaz will be providing the music and there will be face painters, refreshments and probably those same Shearer's chips they hand out after most home games. Wear your black and gold.
If your a Penguin fan that works dahntahn  and cannot wear a Penguin Jersey to work, you will need three sets of clothes today. Your work clothes, your black and gold for the rally, and then white for tonight's white out.
What is with all of the people at the Penguin games not wearing white during the "white out"? Were they not here for the playoffs last year? Are they Senator fans? This is bad mojo and if you sit by any of them I encourage you heckle them and if that doesn't work throw your beer on them. If you forgot to wear white, they will give you a tuna shirt at the door tonight.
The game will be shown on the big screen outside the Igloo, be careful they are calling for strong thunderstorms. Don't forget, alcohol is prohibited so for this game I'm recommending Rum & Coke night.  Buy plastic 16oz Coca-Cola bottles and replace 1/5 of the coke with Captain Morgan and put the lid back on. Giddy Up!
One more thing to read about last game: A Town Called Panic
Gametime is 7PM and can be seen in regular HD outside the Igloo on the big screen or in super HD inside the Igloo. The game will be broadcast locally on FSN and nationally on Versus or CBC depending on what country you live in.
* The "Gameday Poop" is provided to give you enough information to sound intelligent while talking about hockey for 10 minutes. Anything after that and your on your own.
Share this with friends: