The Penguins had a chance last year to eliminate both the Flyers and Capitals at Mellon Arena and both times they failed. Tonight the Penguins have a chance to eliminate the Ottawa Senators from this years playoffs by simply winning the game. The reward is probably what amounts to a week off. The Senators aren't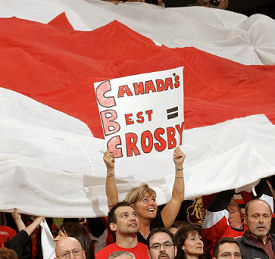 about to roll over and succumb, the Pens must continue to play with the desire that got them to this point.
Marc-Andre Fleury has had some good numbers since the first game when everyone ready to ship him off to Siberia. Here is how PenguinPoop writer Jean Pronovost thinks he stacks up against the other goaltenders in the playoffs so far: Fleury gives the Penguins a huge advantage over every other team
Sidney Crosby has flipped the switch and I have never seen him this driven before. Forget all the talk about being worn down from all the games, Captain Crosby should be one of the most worn down. Even though he has won the MVP, Art Ross, Stanley Cup & Gold Medal along with  a bunch of other awards and accolades, he is still 3 years short of what is considered the prime NHL performing ages of 25 to 29.
Somebody tell Jonathan Cheechoo that he is still listed as being in those prime ages. Over the last five years after having over 50 goals in one season, he has seen his goal scoring numbers dwindle 56-37-23-12 then only 5 this season and was sent down to the AHL and just called back up last game. He is only 29 years old!  Word on the street is he'll be benched tonight after only one game back, and Donovan is in.  
Where are all the callups? With the Penguins AHL minor league team going down for the count, I would have thought the Pens would have called up more than just defenseman Deryk Engelland a guy who at 28 has only played in 9 NHL games to skate with the team.
Tyler Kennedy is listed as day to day with a lower body injury, he didn't skate today and I would say that there is a less than 1% chance he will play tonight, I was impressed last game that after T.K. got hit and went down hard and was struggling to stand, when the puck got near him, he tried his best to get it to the front of the net. That's why the Penguin team wins. Desire.
Here is the lineup the Penguins practiced with this morning:
Kunitz-Crosby-Guerin
Dupuis-Malkin-Ponikarovsky
Cooke-Staal-Fedotenko
Rupp-Talbot-Adams
I would question adding Fedotenko who has the worst plus/minus to the Pens checking third line, the line that the Penguins try to line up against the other teams top line, but seriously why question coach Bylsma. We need to start a WWBD – What Would Bylsma Do campaign.

Did you know coach Dan Bylsma has written 4 books? Dan along with his father wrote four books to help kids get better at sports and he runs a hockey camp in Minnesota where they call him "Hockey Dan" You can read more about that here: Hockey Dan!
The Ottawa Senators fans have already written their team off. Here are some quotes from Ottawa Senators blogs: Sens Underground "We're afraid the fat lady is about to sing." the Sixth Sens: "Start writing the eulogy. Ottawa is toast." Canucnik: "Next Year!" Black Aces: "Nightmare Goaltending Sinks Ottawa, Likely For Good This Time" Personally I'm the guy that thinks we can still win losing 6-2 with 30 seconds left. It drives my wife crazy.
Wait Sens fans don't slit those wrists just yet, I found one Senators Blog that's holding out hope, you could say a true Senators fan: Duff from Another Ottawa Senators Blog: "I know there is one more game and I'm not about to jump ship" Wow, could he rub it in if he's right. I hope he's not.
I know I shouldn't look ahead but… The Eastern Conference playoff race is panning out with all four teams taking a 3-1 lead in their respective  series. If this plays out, the Pens will play the Boston Bruins next round and the Washington Capitals will face the Philadelphia Flyers. This is probably the best outcome the Pens could have hoped for, not because Boston is and easy target, more because the Flyers will be able to give the Capitals a good pounding.
I'm not embarrassed to say I'm rooting for the Flyers against the New Jersey Devils tonight, not enough to wear and orange shirt, but still hoping they win. The Flyers only need to win one of the next three games, but that got a little harder because two of their top scorers Jeff Carter and Simon Gagne sustained foot injuries in Tuesdays game and will be out of the lineup the next few weeks.
If I could sum up the entire Pens vs Sens series so far with one photo, it would be this one from Getty Images: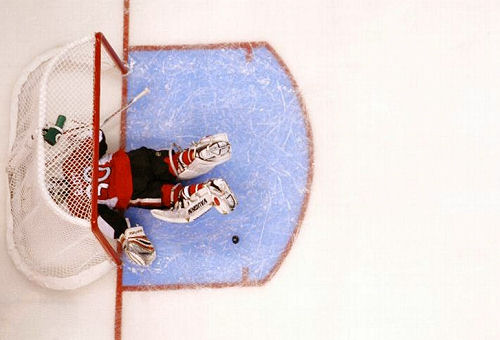 Don't forget that we've been adding some great new video's to our PenguinPoopTV page on Youtube. You can check them out here: "PenguinPoop TV"
It's another "White Out" tonight, so don't forget to wear your white Penguin jersey or you can wear the Trib t-shirt they give you at the door while waiving your DQ playoff towel. The "Tailgate on the Terrace" will be in full effect.
The Big screen will be out tonight and game time temperature should be in the upper 50's. Don't forget the alcohol is prohibited while watching outside, so we are recommending a thermos full of hot chocolate mixed with 1/5 Baileys Irish cream and a shot or two of Jameson's Irish Whiskey to keep you warm.
Additional reading:  Will Fedetenko Be Needed Again by the Penguins?
Gametime is 7PM and can be seen in regular HD outside the Igloo on the big screen or in super HD inside the Igloo. The game will be broadcast locally on FSN and nationally on Versus or CBC depending on what country you live in.
* The "Gameday Poop" is provided to give you enough information to sound intelligent while talking about hockey for 10 minutes. Anything after that and your on your own.
Share this with friends: