The Penguins need to find that desire that got them up in this series 3-1 and they need to find it fast. While the Senators didn't lie down and hand the last game to the Penguins like everybody thought, they did lie down and block shots, 46 of them. The good news is the Pens seem to play a way better game up in Ottawa.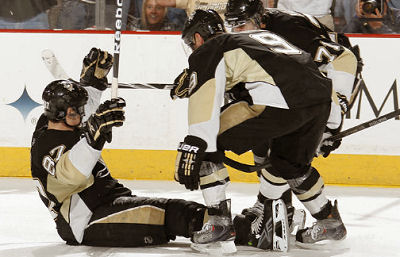 Even though Marc-Andre Fleury lost, he played a great game. The first goal was a powerplay goal that tipped twice then off of Gonchar's skate then in, the second goal was tipped into Fleury off Goligoski's skate which he saved, but Ruutu plowed into the crease knocking the puck in. The goal in the third overtime was tipped in off of Matt Cooke. It was his first no soft goal game this playoffs which I hope is a sign of things to come.
They are saying that the Penguins had 125 shots last game, missing the net 20 times, blocked 46 and on net 59. If that do that this game in three periods, I promise a win.
How good is Sidney Crosby? Crosby got an assist yesterday even though he didn't play. That's how good. After reviewing Kris Letang's goal last game, it was ruled that Billy Guerin never touched the puck as it went past him, giving Crosby and assist and upping his season total to 14, his best for 1 playoff series to date. In the regular season Crosby gave away a goal that hit Billy Guerin that would have put Crosby in sole possession of the goal scoring trophy, that's just good karma.

There is something wrong with the NHL regular season scoring system when this happens. Looking at the Washington Capitals vs Montreal Canadians series, they both have a winning record against each other during the regular season. The way the system works, both teams won two games, lost 1 game and tied a game.  It's time to fix this idiotic scoring sytem.
Chris Conner was called up by the Penguins yesterday because with Tyler Kennedy out the Penguins are lacking a speedy forechecker. Though lineups for today have not been announced, I think the Pens need to put Chris Conner in the lineup and take out Fedotenko. It's not that Fedotenko had a horrible game last game, but Feds doesn't fit in with the Staal, Cooke line the way Conners would and Feds hasn't earned a spot on the top two lines. Jordan Staal matched his worst plus/minus game of the season with a minus -2 last game with Fedotenko on his line.
Is Fedotenko a bad luck charm this year? The only two games that Ruslan Fedotenko played in this playoff series, the Pens lost and Fedotenko was a minus in both games. Hmmmm.
Ottawa's coach Cory Clouston is quite possibly the most miserable person I've ever seen, it's no wonder players itch to get out of Ottawa.
Happy Birthday! Kris Letang turned 23 years old today and could you think of a better way to celebrate your birthday than closing out a series with the Senators? I can't.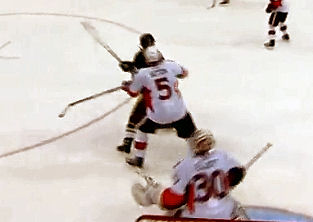 Do you remember the goal in game 2 when Crosby danced behind the net and passed the puck to Kris Letang for the game winner with about 3 minutes left in the game? I just had a chance to watch a replay of it on a big HD tv and it really looked to me like maybe Billy Guerin tipped the puck with a high stick, I rewound it a few times and watched it and slow mo and I'm not positive he did, but I not positive he didn't either. I would post the Youtube video, but you can't see it on there, it's to fuzzy.
Jim Shearer has a new Yinz Luv Da 'Guins episode, you can watch it on PenguinPoopTV right here: Yinz Luv 'Da Guins, PIT vs. OTW (Game 5)
Additional Reading: As Predicted, Penguins Defeat Ottawa in Six
 Gametime is 7PM and can be seen in HD at Scotiabank Place or on FSN Pittsburgh. *Versus and CBC will airing the game outside the Pittsburgh area.
* The "Gameday Poop" is provided to give you enough information to sound intelligent while talking about hockey for 10 minutes. Anything after that and your on your own.
Share this with friends: