The USA has won the Hockey Gold medal at the Olympics only twice in 90 years. Both times the USA won, the year ended in zero, as a matter of fact they won the last two times the Winter Olympics were held on a year ending with a Zero. Penguins defenseman Brooks Orpik was named after the coach of the 1980 USA Hockey team Herb Brooks. Put it all together and it's a guaranteed win.
Unfortunately the Canadians don't feel the same way. The USA has beaten them already in the preliminary rounds but don't expect them to just hand the U.S. the gold. The Canada team has won 5 out of the six times the two teams have faced each other in the Gold medal round in the Olympics.  The only win the U.S.A. had against Canada in a Gold Medal game came in 1960 which now has been dubbed the "Forgotten Miracle"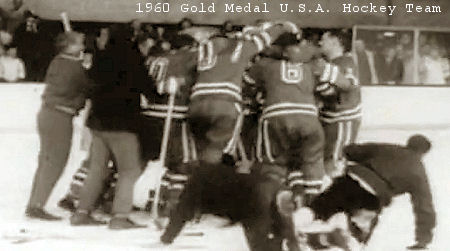 At a few minutes after 3pm EST this afternoon, a puck will be dropped inside Canada Hockey Place in downtown Vancouver and the hopes and aspirations of 40 Olympians and millions of fans will be riding on a 60 minute battle to the end. All bets will be off. Medals will be polished behind the scenes, fans from both countries will be figuring out the best place to celebrate the win, and every player whose skate touches the ice will use every ounce of ability in their body in a quest for something very few hockey players ever get a chance to play for. This game is going to be off the Richter Scale. This is Crosby vs. Miller, this is Kane vs. Luongo, this is Brooks Orpik versus anyone who comes in his way. This is where the stars shine. It all comes down to this game. Are you ready?
For Pittsburgh and Detroit fans this is Deja-vu from June 12, 2009, though this time perhaps were rooting for the same team.
The USA hockey team is the only team that has ever won an Olympic Gold medal while playing on home soil. Unfortunately the only times USA has won the gold was while playing within the USA. Vancouver is as closest to the USA they will ever play without being in the USA.
The USA has a huge advantage because Mike Babcock, the Canadian coach who just so happens to be the Detroit Redwings coach, will not be playing Canada's best goaltender Marc Andre-Fleury. Is it me of does Canadian coach Mike Babcock look like he having a horrible horrible bout with constipation? Watch him when they put close ups on him he looks like a bowl movement could come at any second. Maybe Southside Shultzie was right.
Commentator Eddy Olczyk's favorite word is "ACTIVE". Active sticks, active defender, active glove. This is hockey, try to find something inactive. You must take a drink today of your favorite beverage every time he says it.
You had to love Canadian Boyle dropping Washington Capital cheap shot artist (no not ovechkin this time) Alexander Semin. After he went up and crosschecked Sidney Crosby in the back, he had it coming. The Penguins need to pick up a defenseman with a mean streak to take care of idiots like this. ovechkin for the rest of this article be referred to as NO SHOW AO. These two are quickly becoming marked men in the NHL.
The Russian team didn't have camaraderie from the get go. On top of all the other infighting with NO SHOW AO and the rest,  Kovalchuk's number #17 was retired in honor of Valeri Kharlamov, so Kovalchuk  in a dick move decided to take Evgeni Malkin's #71 (Kovalchuk got to pick first because of age).
When Malkin and Crosby faced off in the world Junior games in 2005 Malkin was #17 and Crosby wore #9. Malkin led the Russians in scoring with 3 goals, 3 Assists which just so happened to be the exact same amount of points Crosby had scored at that point in the tournament.
For me with this match up I can't lose. I will be sadder if the USA loses but they would still get a silver, way more than I thought they would get, and the Penguins Captain Crosby would get a gold. Even with that being said, Go USA!!!!
How great would it be for Orpik to brag to both Crosby and Malkin he got the gold, they may have scoring titles, MVPs and Conn Smythe awards but he would have the elusive gold medal, something you can compete for at most 5 times during your career.