The big question for tonight's game is will the Bruins be seeking revenge on Matt Cooke for the hit he put on Mark Savard? The NHL brought in some veteran refs in Bill McCreary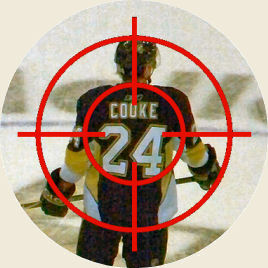 and Stephen Walkom and if you listen to any reports out of Boston, they will have there hands full. The consensus here at PenguinPoop was that it was a clean hit according to NHL rules and that the NHL needs to change their rules. Which they are in the process of doing.
PenguinPoop writer Jean Pronovost wrote this: "I'm sorry but Cooke has to be suspended "
The Bruins hold the last playoff spot and are fighting to keep it, if they decide to throw a game to get revenge it will only hurt them. I expect to hear booing everytime Cooke touches the puck and maybe a bunch more checks to be thrown at him but not much more. This is not the first time that he's been in this situation and I am sure it won't be the last. It will definitely be fun to watch.
Evgeni Malkin will not be playing again tonight, he said he is looking to play Saturday.
The Penguins powerplay looked quite horrendous against the Devils. I don't understand how they go from the system they used the other night when Malkin got hurt to the one they used against the Devils. Put Ponikarovsky back in front of the net and Guerin back in the slot shooting. It is that simple and it will get you goals. If the powerplay is not working tonight the Bruins will be taking cheap shots all night.
Link: Penguins' CEO Ken Sawyer to Retire on August 31; Morehouse to Take Over as CEO/President
Link: Pittsburgh Penguins farm team moving to Johnstown?
Ex Pittsburgh Penguin Mark Recchi, who plays for the Bruins now, tied Guy Lafleur for 22nd on the all-time goal scoring list on Tuesday. "The coaches were like, 'Congratulations.' I was like, What are you talking about?" he said after finding out the news. "(when) your name is in the same breath as those guys, it's pretty cool." Recchi has six points in the last five games.
Gametime is 7PM and can be seen in HD at the TD Garden or on FSN
Share this article using: