The Penguins take on the Boston Bruins at 3PM this afternoon in a black and gold battle that pits the number one Atlantic division Penguins against a Boston team that is struggling to hold onto a playoff spot. The Penguins have won 3 games in a row and have had to come from behind in the last two to win. Hopefully today they'll make it a little easier on themselves and come out firing on all cylinders.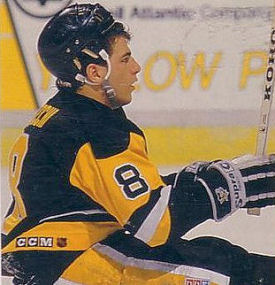 Mark Recchi said that he is retiring after this year, if the Penguins do not meet the Bruins in the playoffs, this will be his last time playing in Pittsburgh.
It's funny how this stuff works. Malkin finally gets a quality winger that can score on his line, that wingers scores, yet Malkin's 15 game scoring streak ends because Malkin didn't score. Let's hope he starts another streak today.
With his two goals yesterday Sidney Crosby is now the leagues #1 goal scorer, I don't believe he's ever led the league in goal scoring this late in the season.
Sorry this is a short Gameday Poop for me, I have a hockey game this morning then I'm off to the Igloo – Go Pens!
Gametime is 3PM and can be seen in HD at the igloo or on FSN Pittsburgh.