With a win this afternoon the Penguins would clinch a Stanley Cup Playoff berth and if you could tell me a better way to do it than at home against the dreaded Philadelphia Flyers please let me know. A win would also dampen the Flyers playoff hopes. With all the talk about the Penguins being on a downward slide, not much is being made of the Flyers only winning 3 out of their last 10 and the possibility that if they don't pick it up, they might lose their playoff spot.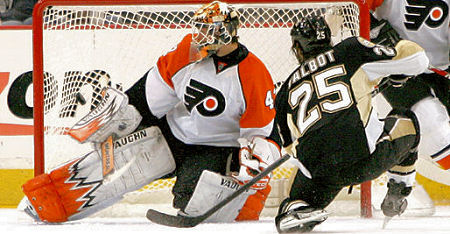 The Flyers are having some injury troubles. The are working with their third string goalie and rumor floating around as it they are starting their forth string goalie Johan Backlund for today's game. The Flyers leading scorer Jeff Carter who had not missed a game in 286 games will be out 3-4 weeks with a fracture in his left foot.
The Penguins aren't without injury troubles of their own. Evgeni Malkin will be missing today's game and maybe tomorrow's also with a bruised foot. The Penguins need to rest him as long as they can then give him 3-4 games warm-up for the playoffs. Sergei Gonchar and backup goalie Brent Johnson are dealing with illness that might keep them out of 1 or both games. Probably the cold that is going around.
I would list the lines that the Penguins posted this morning, but what is the point. Dan Bylsma will use them for the first four shifts then mix 'em up.
If you want to be specific about it, if the Pens at least get a tie today or the Atlanta Thrashers have a tie or loss the Pens will have secured a playoff spot. 
There is a little too much worrying going on in the Penguin kingdom. Last I heard, and I just checked to make sure, and I was right, the Penguins are still the reigning Stanley Cup champs and are still the team to beat. They are tied with the second highest point total in their conference.
A fight to the finish – Sidney Crosby, Steven Stamkos & Alexander Ovechkin are in a tight race for the Rocket Richard Trophy given to the leagues top goal scorer. All 3 are tied with 45 goals and all 3 have 8 games left. I guess I can stop asking when Stamkos is going to start playing like the superstar the NHL scouts said he was.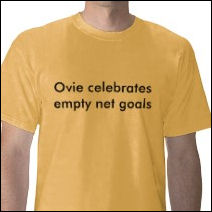 I came across a great t-shirt on the internet the other day but I won't buy it because the place that makes it also sells "Crosby Sucks" t-shirts. 
Evgeni Malkin gave a great speech when he won the Dapper Dan sportsman of the year award on Thursday. You can view it here: Video: Evgeni Malkin's must watch Dapper Dan speech last night
Gametime is 1PM and can be seen in HD at the Igloo or on FSN Pittsburgh.
Required reading: "The Crosby Sucks Phenomenon"
* The "Gameday Poop" is provided to give you enough information to sound intelligent while talking about hockey for 10 minutes. Anything after that and your on your own.
Share this with friends: