The Penguins take their 4 game winning streak to Carolina tonight to kick off a five game road trip that has them playing their arch nemesis for the Atlantic Division crown the New Jersey Devils not once but twice on the Devils home ice. The Pens are 1-1 against the Carolina Hurricanes this season with the Penguins winning the only game they played in Carolina. They played with patchwork lineups both games. When the Penguins have a healthy lineup they have dominated the Hurricanes going back to last season when they swept the Canes in four games in the semi finals outscoring them 20-9.
Billy Guerin's back is better and the NHL's Colin Campbell did not suspend Matt Cooke for the Savard hit on Sunday, so it looks like the Penguins have one additional winger possible to play this evening.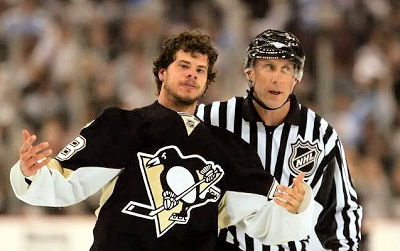 TK is the odd man out. During the Penguins home game on Sunday I debated with PenguinPoop writer STH35 about who the Penguins odd man out was going to end up. We both wrote competing articles the day before that had two completely different opinions. This morning when the Penguins announced their Lineup for today's game, they announced Tyler Kennedy was the Penguins odd man out, exactly as STH35 predicted. You win STH35. This Time!
They found Sidney Crosby's equipment he scored the "Golden Goal" with that he and a million or so of his closest Canadian friends were looking for. It was a being stored in Toronto ready to ship off to the International Ice Hockey Hall of Fame. Ovechkin has been cleared of any wrong doing, well at least in this incident.
The Penguins are playing goaltender Brent Johnson & sitting Marc-Andre Fleury tonight, not because of poor play, but because they want him in net for the big game tomorrow night against the Devils. Not that I'm looking ahead.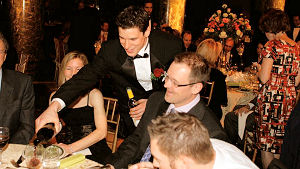 A new Penguin blog friend of ours "PensHead" has just posted a bunch of pictures & video like the one above of Crosby serving Dan Bylsma from Tuesday's "2010 Skates & Plates". Check it out!
In reading stuff across the Penguins Nation I came across a blog called "Cocktails With the Penguins" where apparently the person who writes it mixes up different drinks according to what is going on with the game. Hmmm… she might like to drink more than our friends over at PuckHuffers.  Speaking of PuckHuffers don't forget the Staal Brothers Drinking Game for tonight's game.
There is a new movie that opens this Friday that was filmed in Pittsburgh by a Pittsburgher called "She's Out of Your League". It has a whole bunch of hockey scenes including some from a Penguin Game. You can read about it here on the Pittsburgh Penguins web site: "She's Out of Your League"
Gametime tonight is at 7Pm and can be seen in HD at the RBC Center or on Fox Sports Pittsburgh (FSN)
You can read STH35's an my competing "odd man out" articles here:
STH35's:  Which Penguin Forward Will Be First in the Pressbox?
Phil Krundle's:  Ponikarovsky's in. Who is the Odd Penguin Out?