Well it's the final regular season game at the Igloo tonight and there are 50 some plus players from Pittsburgh hockey lore that will be at the arena for a very special presentation and it's fan appreciation night so on top of the many giveaways, at the end of the game the Penguin players will be giving fans the jersey's right off their backs. I've listed all of the ex-Pittsburgh Penguins I've heard that will be at the game tonight below.

There is also rumor going around that they are planning to play a hockey game in between all the hoopla. The New York Islanders are going to be in town and I have too much to cover so here is everything in rapid fire style, I hope you can keep up.
Fortunately or unfortunately, the "jersey of their back" is not the smelly one the players wore during the game. They go to the locker room after the game and throw on clean jerseys, probably to a few fans dismay.
Wouldn't this be the ultimate for the final regular season game at the Mellon Arena… 3 more points and Sidney Crosby has 500 for his career, how about he does it tonight with a hat trick. It would give him over 50 goals for the year and over 500 career points in front of many of the greatest Pittsburgh Penguins to skate at Mellon Arena.
Will Evgeni Malkin be playing? He is expected to play yet he's a game time decision. Haven't heard a word about Kunitz.
Some of the best laid plans… The Penguins on Monday and Tuesday worked extra long perfecting their powerplay. What didn't work out so well was that Evgeni Malkin was one of the ones in on all those drills and he called off ill moments before Tuesdays game.
Can the Penguins flip a playoff switch? All you hear about these days is whether the Pens can flip a magic switch and be in playoff mode. If Ruslan Fedotenko could be a prime example, I think they can. He played an incredible game last game and looked playoff ready after going MIA most of the season.  Fedotenko has the teams worst plus minus by far at -15.
Something to consider. Is it possible there is an illness going around the Penguins locker room that's hindering their play on the ice.
The Penguins want us in our seats early for tonight's game. They are saying the festivities will be starting at 7:20PM, but I recommend being seated a little after 7PM. My guess is that the actual game will start around 7:45PM.
Goligoski if your reading this… Stop over thinking everything and follow what Gonchar does. Shoot first, ask questions later.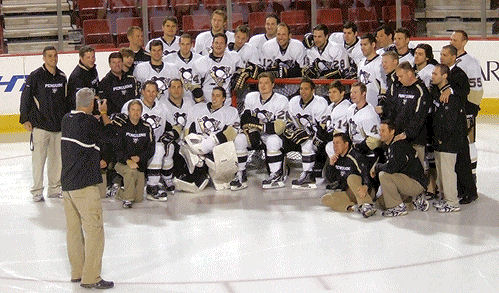 The Pittsburgh Penguins took their last staged team photo in the Civic Arena – they will still have that impromtu one in June if you know what I mean, and I think you do.
Sidney Crosby on Tuesday became only the sixth NHLer to reach the 100 point mark in four of his first five seasons. The only year he missed was the year he only played 53 games because of an injury. "it is certainly a good milestone," Crosby said. Mario Lemieux and Wayne Gretzky are the only two players to go 5 for five.
Sidney Crosby redux… Crosby and Ovechkin are tied with 48 goals a piece for the Maurice "Rocket" Richard Trophy for most goals scored during the regular season, Crosby has the upper hand having 3 games left to Ovechkin's two.
John Tavaras, the heralded #1 draft pick this year that plays for the Islanders will not be scoring 100 points his first season. That is unless he scores 51 points in the next three games. That could bode poorly for the Penguins who play the Islanders 2 of the next 3. Tavaras isn't even the NHL rookie scoring leader.
Something else to consider… The Pens are in dire need of someone that can shoot the puck on the powerplay. Pascal Dupuis is 2nd on the team in even strength goals and fired a puck from behind the blue line last game that broke the glass. I'm not saying, I'm just saying.
Being it's the last regular season game at Mellon Arena, it's time to divulge a little information Reg Dunlop and I have been keeping secret for years. There are only three places in the arena to get an Iron City. The middle of both E-sections and at the coat check on the main floor. I'm sure everyone will be looking to have at least 1 more Iron in the Igloo before it's gone.
One of Coach Bylsma's favorite Mellon memories is "my first win against the Canadiens, walking off, the building going crazy and hearing Lange say, 'Elvis has just left the building,"
Paul from Stadium Journey asked me to post a link to their "newly posted review of Mellon Arena", a little late, but it gives you an outsiders opinion of the Arena so what the heck.
Here is a list of ex Pittsburgh Penguins I have heard will be at the game tonight for the big presentation: Syl Apps, Andy Bathgate, Les Binkley, Phil Bourque, Dave Burrows, Paul Coffey, Bob Errey, Rick Kehoe, Pierre Larouche, Mario Lemieux, Gilles Meloche, Larry Murphy, Eddie Olczyk, Greg Polis, Jean Pronovost, Gary Roberts, Ken Schinkel, Ron Schock, Bryan Trottier, Gene Ubriaco, Bryan Watson, Red Sullivan, Craig Patrick & Jack Riley
I'm still wondering if Jaromir Jagr's going to be there. You can read more on that here: "Will Jaromir Jagr be at the Penguins final regular season game?"
We are going to try some new fan-dangled technology tonight and post pictures from all over the arena of the festivities as they happen right here on PenguinPoop.
OK, just one more crazy idea from yours truly… When they make that statue of Mario Lemieux for in front of the new Arena (if you didn't know, the process has already started),  why not make it from the steel from the roof from Mario's house, the Igloo?
Posted Gametime is at 7:30PM. Be there early for the pre game stuff and don't leave early. The game can be seen in HD at the Igloo or on FSN.
Required Reading:
If you need to brush up on your Pittsburgh hockey history to enjoy the festivities tonight to their full extent, this is a website that you need to check out:  Pittsburgh hockey.NET
* The "Gameday Poop" is provided to give you enough information to sound intelligent while talking about hockey for 10 minutes. Anything after that and your on your own.
Share this with friends: