The Pittsburgh Penguins are taking on the Tampa Bay Lightning at home tonight and for the second game in a row, if the Penguins win, they mathematically eliminate their opponent from the playoffs.  Evgeni Malkin and Sergei Gonchar have been back practicing with the Pens and Sergei Gonchar had been penciled back into the lineup after his bout with strep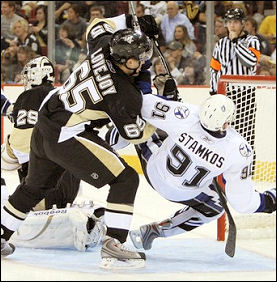 throat, but the Penguins said this morning that both will not be in the lineup this evening.  Keep Gonchar away from the rest of the team.
Ryan Malone may be playing tonight, back from the from upper body injury/knee surgery combo injury he had. It sounds like from Tampabay.com that he might be rushing it back to play one last time at the Mellon Arena. On his thoughts about them tearing the Arena down he said: "I asked for seats already, that would be pretty cool to have three or four seats from there."
The best quote came from Lightning coach former Penguin Rick Tocchet about the Penguin team he was on in the 1990's. "I really think that team could have won 3 or 4 Cups, then contracts came involved and a lot of stuff came into play, so a lot of factors. I think we could have won 4 or 5 Cups." I bet if he kept talking he would of had them winning 9 or 10 cups, even funnier is the fact that he was only on the team for 2 1/2 seasons. That's a lot of cups for 2 1/2 seasons.
The Penguins have killed off 42 of the past 45 power plays that's an astounding 95.5% kill rate.
The Penguins signing Kris Letang to a 4 year $3.5 million a year contract signals an end between the Pens and Sergei Gonchar after the season unless Gonchar changes his mind and takes less or a shorter contract. I believe that Gonchar's worth to the team is way overstated in the media. He has the teams worst plus/minus at -7, in fact he is the only Pittsburgh Penguin defenseman that's a minus. As far as his power play worth is concerned, do you really believe the Pens powerplay can get worse?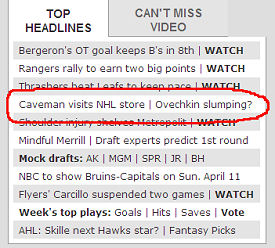 I was on the NHL.com website last night checking out game scores when I looked over at the news on the side bar and saw this "Caveman Ovechkin" thing together. I can't make this stuff up.  >>>
The big story in tonight's game is Sidney Crosby and Steven Stamkos race for the Maurice "Rocket" Richard Trophy given to the leagues top goal scorer. Crosby, Ovechkin and Stamkos all have six games left, Ovechkin & Stamkos both played yesterday and neither scored a goal. Crosby leads with 47 goals, Ovechkin in second with 46 and Stamkos is in 3rd with 45. They will all play each other 1 more time this season.
Call 911! Sidney Crosby has won 911 face-offs, that's over 100 more than the next closest player in the NHL.
The Flyers Dan Carcillo has been suspended by the league for an intentional high stick to the face of David Clarkson. Flyers GM Holmgren had this to say: "I am disappointed in this decision by the League office, this was clearly an accidental high stick and I do not believe a match penalty was the call that was warranted." Here is Holgrem's idea of an accidental high stick:
One more Rick Tocchet quote: about the ice at Mellon Arena, "the ice was always good. You felt good every home game because the ice was good. And I needed good ice because I had the snow boots on."
Gametime is 7:30PM and can be seen in HD at the Igloo or on Versus.
* The "Gameday Poop" is provided to give you enough information to sound intelligent while talking about hockey for 10 minutes. Anything after that and your on your own.
Share this with friends: