The Pittsburgh Penguins have lost to the New Jersey Devils all five times they played them this year. Three out of the five losses came when the Penguins played them on the second night of back to back games and the Devils did not play the night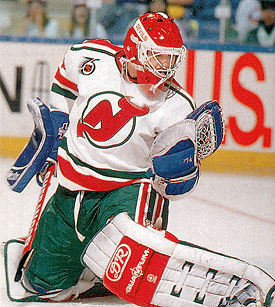 before. Two of those games the Penguins traveled immediately after their game the night before while New Jersey rested. It makes it a little harder to play against a trap like New Jersey's when your that tired. The other two losses came earlier in the season when the Penguins were injury ridden.
Just when the Penguins were about to have an injury ridden free roster for probably the first time this year with Eric Godard coming back,  Evgeni Malkin goes and gets a bruised foot and will be sitting this one out tonight after skipping this morning's practice. Malkin did skate a little this morning before practice and is listed as day to day.
The Penguin's web site reported that this is the way the offensive lines practiced this morning:
Ponikarovsky-Crosby-Dupuis
Kunitz-Staal-Guerin
Cooke-Kennedy-Fedotenko
Rupp-Talbot-Adams
Of course with the way coach Bylsma mixes up lines, I don't expect to see these lines past the first period.
In honor of St. Patty's day, the New Jersey Devils will be wearing their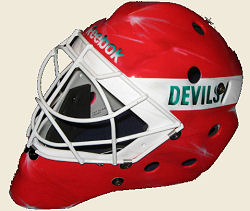 St. Patrick's Day retro green uniforms tonight. Martin Brodeur was the only Devil currently on their roster when they wore green and he'll even be sporting a retro goalie mask, but not his old blue glove and blocker.
New Jersey Devil's Martin Skoula who was a Pittsburgh Penguin defenseman 2 weeks ago does more in half a month than most do in a whole month. He was traded to Toronto then to New Jersey and had a baby son on Saturday, there is still 1/2 of March left.
OK. I promised myself that I would not say anything about the 2 year old 0vechkins boarding of Blackhawk's Brian Campbell, but I just can't help myself. I truly believe that 0vechkin thinks it is alright to injure someone because it's hockey.  0vechkin: "I didn't mean to make someone injured, but you know, it's a hockey game." Yes, it is hockey not the WWF, get it right. He would be good in the WWF, but he would probably fold when the belt was on the line.
Add Chicago to the growing list of teams that have put 0vechkin on their hit list.  Adam Burish of Chicago who thought about jumping the boards and going after 0vechkin said "Either you have to answer the bell or you get suspended… but you have to pay the consequences". That target on 0vechkin's back is getting bigger.
Tony at the Confluence at Kuklas Korner has taken time out of his day to post a list of all of 0vechkin's cheap shots and compares him to Matt Cooke all at the same time: "Call Cooke dirty if you must, but then include 0vechkin in the same breath"
In honor of 0vechkin & Matt Cooke, the NHL wants to adopt a new rule against blindside hits to the head before the end of this season. "NHL wants to impose head-shots rule now"
New Jersey defenseman Paul Martin who fractured his wrist on an arrant shot playing against the Penguins in October might be back for his first game since tonight.
There is not 1 player in the NHL that I can think of that is actually from Ireland. If you can think of 1 please let me know.  I'm sure there are players who's parents or grandparents may have been. Playing for Notre Dame doesn't count.  Chris Connor & Jay Mckee sounds Irish.
Gametime is 7PM and can be seen in HD at the Prudencial Center in Newark New Jersey or on Fox Sports Pittsburgh