Sidney Crosby returns home to the igloo tonight irrefutably the best player in hockey right now. In nine months this 22 year old has won both the Stanley Cup and the Gold medal in style. Captain Crosby led the Penguins in goals last playoff season and he got the game winner in overtime of the Gold Medal Game at the Olympics. Even though he is from Canada and he beat most of the Pittsburgh fans USA team, he will receive a long standing ovation from everyone in attendance tonight, along with the other players who played in the Olympics.

Captain Crosby on how hard winning the Gold was: "We had to win it felt pretty much like 4 game 7's in a row to win" – "It's been a bit of a roller coaster but I look forward to getting back in a routine." By routine I bet he means get some sleep. He went on to say he's pretty much running on adrenaline right now.
By quirk of scheduling, Ryan Miller, the goaltender Crosby got the game winning goal against will be in attendance along with his Buffalo Sabres team this evening. I say in attendance because he is scheduled to get some rest and ex-Penguin goaltender Patrick Lalime is scheduled to start for the Sabres. Unless the Penguins take apart Lalime or he gets injured, expect Miller to sit on the bench all evening.
Oh, by the way, Silver Medal winning Brooks Orpik and Gold medal winning Marc Andre-Fleury (who didn't see a minute of ice time in the Olympics) will also be in the Igloo.
I expect to see Fleury pick his game up. He probably loved the experience and was happy to be selected but was not happy about being sat the whole time. I think he will be trying to prove he can be the go to #1 goalie for Canada next time.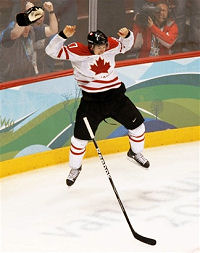 My favorite part about Crosby's game winning goal in the Olympics was how he sat there skating behind the net for what seemed like an eternity looking at the puck inside the back of the net before it finally hit him that he just won the Gold Medal for his home country. Then wham the gloves, stick and any article of hockey gear he could remove went flying in the air.
Why do hockey players & team mates remove their hockey gear when they score big goals?
The NHL will play in Sochi. The NHL can pretend to use the Olympics and Sochi as a bargaining chip for more TV coverage, not being pre-empted by shuffleboard, the collective bargaining agreement or whatever but after the Gold Medal game being one of the most watched sporting events that does not involve someone throwing a pigskin. You would see a huge uprising of unhappy hockey fans, especially Canadian ones and also this one if they don't let the players go.  You don't want to make a hockey fan angry.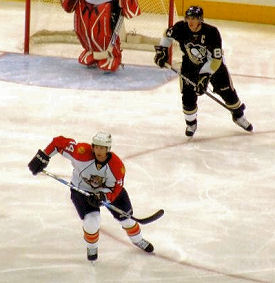 The Penguins picked up a new defenseman Jordan Leopold from the Florida Panthers yesterday and it is going to be very interesting to see if they put him into the roster this evening. The most interesting part will be who they will sit by playing him. I have a feeling that with the trade deadline tomorrow they may sit him tonight and let him get assimilated. Sitting anyone else will cause huge internet debate, and turmoil for the player that is sat.
Former Hobey Baker Award winner Jordan Leopold will be wearing #4 for the Penguins, instead of his usual #44 that has been retired by the Penguins in honor of Robbie Brown that Brooks Orpik wears.
The Penguin team is finally healthy and ready to roll if you don't count Erik Godard who will be out for a while. Tomorrow at 3PM will be the trading deadline and we will have a complete up to the minute list of what's going on here at PenguinPoop in our trade deadline ticker…don't miss it.
Gametime is 7:30PM and can be seen in high definition at the Igloo or on FSN.