The Penguins had a big "closed door" meeting to discuss what needs fixed after that horrendous performance against the Tampa Bay Lightning on Wednesday night. Whatever they came up with can be fixed with two words: Malkin & Gonchar. These two are coming back and not a minute too soon.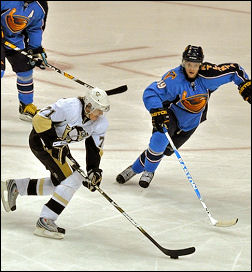 I'm not calling this a no brainer but Bylsma is finally putting the Staal, Kennedy, Cooke line back together for todays game.  Why it was broken up I will never know, this has been one of the top energy lines for the Penguins all season.  Malkin practiced with Ponikarovski & Guerin on his line.  With five games left it's time for the Pens to fine tune their game and get ready for the playoffs.  
The New Jersey Devils got a point last night which knocked the Pens down a notch to fourth place.  Why is everyone complaining that the Pens might finish fourth? The last two times the Penguins won the Stanley Cup they finished fourth.
Kris Letang has a new four year deal and I don't want to say that Ray Shero over paid, I will let his future performance determine that.  There are two big things that Letang needs to work on.  The first is getting the puck on net when he shoots, everybody knows that.  The 2nd is when he is on the powerplay and Goligoski or Gonchar is in shooting position with their stick up caulked and loaded, pass the puck so they can one time a slapper on net.  I'm tired of people blaming Goligoski for not shooting when it's because Letang is throwing him poor crappy passes.  
Current Atlanta Thrasher and ex-Penguin Colby Armstrong has been suspended for two games for elbowing Washington Capitals Mathieu Perreult in the head, it looks intentional to me, you can watch it below.
Can you name a right winger who's an unrestricted free agent this summer, who had 22 goals last year, only makes $2.4 million and Sidney Crosby would love to have on the team? If you said Colby Armstrong give yourself a gold star.
With Colby becoming a free agent, it's time to revisit the Marian Hossa trade with the Thrashers from a little over two years ago. The Pens traded Colby Armstrong, Erik Christensen, Angelo Esposito and a first-round draft pick for Marian Hossa & Pascal Dupuis. First off, I'm tossing the draft pick out the window.  Who Atlanta picked and who the Penguins would have picked are most likely two different players and the Pens don't really need draft picks right now. Hossa is gone for the Pens and Christensen is gone for Atlanta. Colby has 15 goals, Dupuis has 18 goals and just by coincidence Dupuis will be playing on Crosby's line this afternoon along side Kunitz – I'm calling that even.
That leaves Angelo Esposito. Esposito is an enigma. This kid has made a few stupid career moves like in the QMJHL draft where he lied and said he was going to college so he could get picked by Quebec, his stock sunk lower and lower as did his point totals then he goes last year and gets the game winning "Golden Goal" in world juniors. Right now he's playing for the AHL Chicago Wolves and has only 4 assists in 12 games. He may or may not make it to the NHL. I definitely would say the Pens didn't trade away t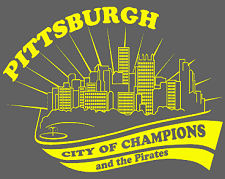 he future as once was speculated.
The Pittsburgh Pirates have their home opener on Monday. Here is a great Pittsburgh Pirates T-shirt for you to wear to the game.>>>  "Pittsburgh City of Champions T-Shirt"
FYI the Pens rank third in the league in hits dished out.
Gametime is 1PM and can be seen in HD at the Igloo or on FSN
* The "Gameday Poop" is provided to give you enough information to sound intelligent while talking about hockey for 10 minutes. Anything after that and your on your own.
Share this with friends: