The Pens chased Buffalo Sabre's goaltender and most likely Team USA's Olympic starting goaltender Ryan Miller from the game on December 29th by scoring 3 times on 11 shots just to have ex-Penguin Patrick Lalime come in and shut them out the rest of the way. The Pens are looking for a little revenge tonight and Crosby, Malkin & Gonchar are looking to get some preliminary shooting practice in on Miller tonight as a warm-up for the Olympics.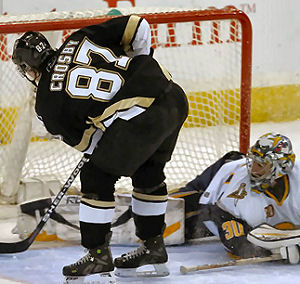 Speaking of…   Crosby, Malkin, Gonchar & Fleury among others did not skate in this mornings optional skate, the notables this morning that did skate were Goligoski, Kennedy and goalie Brent Johnson who is penciled in as the Penguins goaltender tonight.
Buffalo's rookie defenseman Tyler Myers is a Calder Trophy candidate for rookie of the year. At the beginning of the year everyone just assumed the trophy would automatically go to John Tavares. Tavares is only 2 points ahead of Myers in the rookie point race and Tavaras is 3 points behind Matt Duchene of Colorado. Toss in the fact that Myers is a plus-8 and Tavares is a minus-10 and Duchene is a minus-8 and I would say Tyler Myers who will be celebrating his 20th birthday tonight at the Igloo is currently the leading candidate.
Jaromir Jagr had a goal and 3 assists for "Team Jagr" at the KHL All-Star Game over the weekend. Ex-Penguin Sergei Zubov and ex-Penguin Alexei Morozov each had a goal for "Team Yashin".  Jagr's team won 11-8, Zubov was named one of the games 6 stars. The game was attended by Wayne Gretzky & Mark Messier. I sense maybe a little revenge by "the Great One" for the NHL purchasing his team and removing him as coach.     
Sidney Crosby's shootout goal last night tied him for the league lead in shootout goals with 6. The only shootout goal he has missed this year was against the team he plays tonight.
All the sudden trades are happening all over the league. The Rangers traded away their team depth to Calgary for Olli Jokinen today and Toronto actually made semi decent trades for Dion Phaneuf & J.S. Giguere.
Over at Pensburgh, a favorite blog of mine, "Hooks Orpik" gives the Penguin Players their January Report Card: "January grades and Pensburgh player of the month"
Everyone was calling yesterdays game a Stanley Cup rematch, for those of you weren't at the game and got to watch NBC's great post game coverage of figure skating, not one player skated around on the ice with a cup after the game, heck no one even threw a cup on the ice.
OK, I'm going to skate off the ice a little bit here:
I read a bunch of other hockey blogs and there is one thing that annoys me more than anything and that is JERSEY FOULS. Blogs are posting pictures of people wearing hockey jerseys and among other things, if you have YOUR name on the back of a jersey they give you a foul, hood over the players name foul. In the early 90's, EA sports let you put yourself into the NHL video game, I made myself a player. Do I get a video game foul?  Don't get me wrong, I like the pictures of older jerseys with rare players that weren't purchased off the rack.  If you want to show your team's jersey off while going to a game when it's 10 degrees out, wear the hoodie under your jersey and just remember that these bloggers probably just don't have enough hockey knowledge to write opinions about actual hockey happenings.   OK, I'm skating back onto the ice….
The Penguins seem to be defying the odds lately in regards to back to back games. They won both games in their last two back to back opportunities and have a chance tonight to make it three in a row. In January, 5 of the Penguins 8 wins came during back to back games.
Game time is 7:00PM and can be seen in HD at the Igloo or on Versus.