How stupid is the NHL? On the ice tonight will be the last 3 Art Ross trophy winners, the Conn Smythe trophy winner, the last 3 Hart Memorial trophy (MVP) winners, the two guys with the highest points per game average for the last 5 years, the Stanley Cup Champions playing the East Division's number one team and the match up everybody wants to see Crosby vs. Ovechkin. The NHL doesn't have the game nationally televised. Someone should pull Bettman's head out of his ass for him, I'm not sure he's aware it's up there.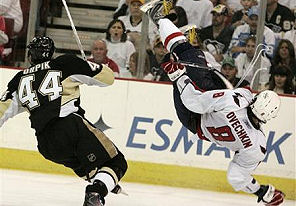 Last year in the regular season the Washington Capitals owned the Pittsburgh Penguins outscoring them 18 to 12 and winning 3 of 4 with the Pens only win coming in a shootout. All of that didn't matter a bit when it came to the playoffs the Penguins were ready and ousted the Capitals on their home ice in 7 games. Ovechkin was crushed when he found out from a team mate the Penguins won the Stanley Cup when he awoke the next morning in St. Petersburg Russia. It's 253 days later, I bet he has some pent up energy.
The Penguins called up Dustin Jeffrey & Nick Johnson, this most likely means that Dupuis is out, hopefully not with a concussion. Jeffrey ranks 5th overall in scoring in the AHL Johnson was drafted by the Penguins back in 2004 but opted to play 4 years of college hockey. 
Great New Penguin Site:  www.arethepensgoingtobeok.com/
Dustin Jeffrey had a time of it Tuesday night as the lone WBS Penguin representative at the AHL All-Star game. With 12 minutes left and his team down 4 goals Jeffrey led the team back into a tie with a goal and two assists. His team ended up winning in a shootout. Not too shabby for a guy drafted 6th round 171st overall. My question is, with Jeffrey kicking ass in the AHL why do we keep bringing up Caputi?                
Max Talbot skated early but did not practice with the team. He is expected to miss the game with a lower body injury.
Andy Sutton of the NY Islanders was suspended two games without pay for his hit from behind on Pascal Dupuis which left him bloodied. The next game Sutton will allowed to play in is when the Islanders play the Capitals next Tuesday.
Marc Andre Fleury is trying out a new glove that has extra protection for his finger and extra flexibility. Could we see him tonight? 
This evening the Penguins will have people collecting inside the gates for the Haiti relief fund.
The game can be seen at 7:30 PM in Super HD at the Igloo or regular HD on Fox Sports Pittsburgh.
Also Read PenguinPoops: Crosby and Ovechkin are Headed Two Different Directions Together
pk