I'm very excited about this afternoons game, I haven't been this excited since the fifth grade picnic.  It seems like forever since the Penguins last instilled new talent into the lineup. I'm not talking about call-ups from the Wilkes-Barre Scranton Penguins, I'm talking about a good old fashioned trade. Evgeni Malkin has been down in the dumps, relative to his skill, all season and I can't wait to see him back with a winger that can twittle the twine.
If you don't know, Alexei Ponikarovsky is his name and he's supposedly knows what to do in the offensive end. He's spent his entire career on a Toronto team that is as skilled as Reg Dunlop singing karaoke. He will be Wearing #23 and playing his first game in a Penguins uniform today at the Igloo at 1PM, and as I said, I can't wait. I'd bet the farm that Mike Lange and Paul Steigerwald spent all day yesterday practicing Ponikarovsky to Fedotenko back to Ponikarovsky, that would be fun to listen to.
By the way were playing the Dallas Stars who haven't been at the Igloo since who knows when.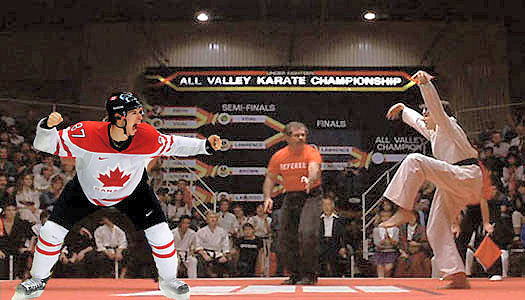 Puckdaddy over at yahoo had a Sidney Crosby photoshop contest, where people take the picture of Sidney Crosby right after he scored the overtime goal for canada and photoshop it into anything and everything you can imagine, there is a great one of him behind ovechkin showing off his Stanley Cup and Gold Medal you should check it out, it's pretty funny! Check it out here: "PuckDaddy"
Billy Guerin is still having back spasms and missed yesterday's practice. He not expected to play today. Jay Mckee is penciled in as the defenseman who will be in the press box.
If you haven't heard, there was a great article in a Washington Post blog Michael Wilbon that has the Capitals fans up in arms. It was written by the posts version of Ron Cooke, but he nails it on the head. It's basically about how Ovechkin needs to grow up. You can make fun of the system the Penguins use with new players staying with families and learning values, but it sure seems to work. You can read it here: "Michael Wilbon Article" the comments are better than the article.
Gametime is 1PM and you can see the game in HD at the igloo or on FSN Pittsburgh.