When Pittsburgh played Philadelphia 17 days ago, Philadelphia played a very disciplined game. Only 7 minor penalties were handed out the whole game.  Philly ended up winning 7-4 and it was the first time I remember Pittsburgh playing Philadelphia without a fight.  Since then Philadelphia has won 5 out of their last 7 including three in a row and has worked their way back into a playoff spot. Luckily for the Penguins the Flyers played yesterday and the discipline may be slipping a little, they got into two fighting altercations with Last place Carolina.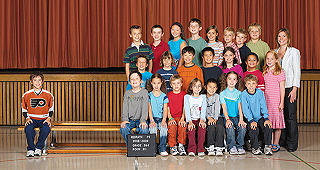 Why on earth the Pens would have Dad's weekend this weekend is beyond me, but he is. Maybe it's because the team plays better with the fathers around and Ray Shero thought they could use a couple big divisional wins. The whole idea of sending the Dad's into the Hell Hole that is Philadelphia with the fans anger management problems and the chanting of Crosby Sucks every 5 minutes is beyond me.
The Penguins have Brent Johnson penciled in as goaltender for today but the Post-Gazette is reporting that Marc Andre Fleury will be starting for the Pens this afternoon. John Curry who played in part of one game and was pulled was sent back down to the WBS Penguins.
Philadelphia Flyers fans were rated third best NHL fans by Forbes magazine. I called the magazine and they said that intelligence is not considered in the rating system.                 
After the Washington game on Thursday night Evgeni Malkin gave "Soviet Sport" an interview along with Ovechkin & Semin. He talks about the Pittsburgh papers criticizing him, Ovechkin getting old and other stuff: "Malkin Interview Translated"  What I like is how he grants them an interview while skipping the Pittsburgh media. Ron Cook and Rob Rossi are together in a back room "Sulking".
Game time is 12:30PM and can be seen in Super HD at the Wachovia Center or on NBC