In round one of the playoffs, the Montreal Canadiens limited the Washington Capitals to 1 powerplay goal in 33 tries. The Pittsburgh Penguins powerplay which was anemic at best during the regular season put in 4 goals on 4 tries. It is funny how Penguins fans emotions are ruled by the first game of a series. After the first game last series it was all over and everyone was talking about how tired the Pens are yadda yadda yadda… Now all you here about is how they are a shoe in to win the Cup. We need to find a happy medium.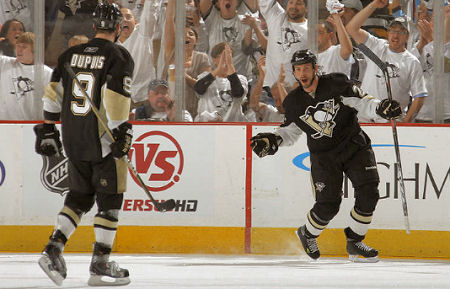 Today's Gameday Poop is more of an injury report than it is anything else.
Jordan Staal will most likely be out for the rest of the series because of a torn ligament on his right foot. Reports were flying around yesterday that his season was over, right up until Dan Bylsma announced to reporters after practice yesterday that it is not and he'd be back. Apparently when everyone heard Staal torn a ligament they all assumed it was an ACL. It wasn't and Staal is listed as day by day. I imagine he will sit unless the Penguins need him.
Here lines the Penguins practiced with yesterday:
Cooke-Crosby-Dupuis
Ponikarovsky-Malkin-Fedotenko
Rupp-Talbot-Kennedy
Conner-Adams-Letestu
Even with Staal out, the Penguins have 5 natural centers in their lineup Crosby, Malkin, Talbot, Kennedy and Adams.
Montreal's defenseman Andrei Markov will be missing today's game because of a knee injury he suffered when Matt Cooke checked him in Friday's game. My initial thought after seeing the hit was that Markov was diving and trying to get a penalty called against Cooke, especially when I saw Markov's glove get tossed way up in the air. Then I was thinking wow, he's really selling this going to the locker room, I thought he might be taking it a bit too far when he didn't come back the rest of the game, then when he flew back to Montreal saying he was having his knee looked at I was thinking wow these Canadiens have been around the block and really know how to sell this.
Watch the glove toss at the very end of the video, I really thought he was faking.  I wrote in my last "Gameday Poop" that stopping Andrei Markov was one of the big keys to winning the series. This is not what I meant by stopping him.
Marc-Andre Bergeron will be seeing more time on defense for the Canadiens today. Bergeron has always been a defenseman but the Canadiens used him more for the powerplay and many times as a forward all season. With Markov out and Jaroslav Spacek not playing today, the Habs will most likely have to give Bergeron more playing time on defense than usual.
Jordon Leopold practiced full contact drills and is back and ready to play, but unless the Penguins start to fall apart against the Canadiens, there is no reason to put him back in the lineup. The longer you rest with a concussion the better.
Does anyone remember Janne Pesonen? The Penguins signed Janne Pesonen who was ripping it up in a league over in Finland to a one year deal last year and he spent most of last season breaking a bunch of the AHL WBS Penguins scoring records. He played 7 games for the big boy Penguins and didn't register a single point. This year he found a home in the KHL with the Kazan Ak-Bars and just won the Gagarin Cup (the Russian version of the Stanley Cup). This is the second year in a row that Kazan Ak-Bars won the Cup. The Captain of Kazan Ak-Bars is Ex-Penguin Alexei Morozov.
I thought I was done picking apart Ovechkin and now I'm almost positive that Ovechkin is one peanut butter sandwich short of a picnic basket. A friend sent me the video below of Ovechkin purposely spraying snow on a little kid in Montreal. Keep in mind while watching the video that there are two entrances to the players bench. You'll have to take my word for it if you don't play hockey, hockey players only spray that much snow when they want to. Here is the video:
A few quick need to knows if your headed to the game:
Traffic for heading down the game is going to be all messed up today with the marathon going on.  Give yourself some extra time.
It is a white out again today.  So wear your white Penguin jersey's if you don't want to wear the hand out white t-shirt.
The Trib's "Tailgait on the Terrace" was cancelled today because of weather.
The game will not be on the big screen outside today, because NBC sucks. Though with the rain and all the traffic, people may not be as mad at NBC

this time

.
Gametime is 2PM and can be seen in HD inside the Igloo or on NBC.
* The "Gameday Poop" is provided to give you enough information to sound intelligent while talking about hockey for 10 minutes. Anything after that and your on your own.
Share this with friends: