Don't let the Montreal Canadiens #8 seed fool you. They had injuries all season just like the Penguins did and are a very good team. Just ask Washington. They have a solid all around team, good coaching, good goaltending, solid experienced defense and a very fast offense. Do they have what it takes to beat a Pittsburgh Penguins team that has been to the Stanley Cup finals two years in a row? Probably not.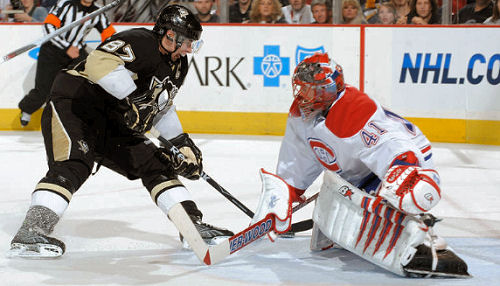 The Penguins have experience oozing out of their pores. They are a team full of young hungry players that been to finals twice, they know what it takes and are looking to build up their reputation as being one of the leagues best teams and 'gasp' possibly earn some dynasty accreditations.
What we are going to see here in this round of the playoffs between these two teams is some very fast action fun to watch hockey. We will get to see the leagues best player get to play in a playoff game in a city and against a team that he idolized only a few years ago. We will see a goaltender try to stop a team with two of the leagues best players after shutting down a team with one of the leagues best and we will see a young team fight for the respect of a city that watched it's team have dynasty after dynasty for decades.
One of the big questions of the series is how will the Montreal fans treat Sidney Crosby? Will he be treated with respect because he won them a Gold Medal or will that all be washed away by the sound of boos or the chanting of "Crosby sucers". I think that's French for "Crosby sucks", but I only took 1 year of French.
Things to look for in the series:
Everyone may not be playing for the Penguins, but everyone is skating and working out. The question marks are Jordon Leopold, Kris Kunitz and Tyler Kennedy.
Jaroslav Halak's save percentage against the Capitals in the playoffs was a stellar .939 but during the regular season against the Penguins it was a horrid .840
The Canadiens can turn the play around very fast from defense to offense and have lots of offensive speed.
The Penguins speed will be making Hal Gill turn around from skating backwards to forwards to try to catch up to Penguins forwards. I have to give Hal Gill credit, he looks like he's done some working out and is a little bit faster.
Sidney Crosby in the last five minutes of any game where the score is tied or the Penguins are down a goal gets better than Gretzky or Lemieux ever were in that situation.
Montreal defensemen Andrei Markov & Marc-Andre Bergeron missed a combined 59 games yet both put up big numbers. If they both played all season you have to wonder if maybe the Canadiens would have finished better than 8th.
The Two Headed Monster. Look for coach Bylsma to use his old formula to try to get Crosby and Malkin on the ice together when the time is right, close to the end of each period.
The Penguins Powerplay. There is no way it will do as poorly as the Capitals. The Penguins puck movement and passing skills will play havoc with Jaroslav Halak. PenguinPoop writer STH35 wrote a very interesting article about the Pens powerplay:
Sidney Crosby needs to make sure he doesn't get caught up in the media circus that follows the Canadiens around. They will drain him like a vampire if he lets them. Give them a small amount of time be polite and get out.
The main thing the Canadiens have to worry about is that Evegeni Malkin's parents Vladimir and Natalia are back in town along with his older brother this time.  The Habs have no idea that they are to Geno what Spinach is to Popeye. 
The Penguins have a luxury they didn't have last year. The WBS Penguins got eliminated from the playoffs early so they were able to call up a bunch of players to work with the team and fill in if needed. This will really help out should the series go longer than expected. The players called up are:
Forwards: Eric Tangradi, Chris Conner, Nick Johnson, Dustin Jeffrey, Tim Wallace and Mark Letestu
Defenseman: Steve Wagner Deryk Engelland and Ben Lovejoy
Goaltenders: John Curry and Brad Thiessen
The Hart Memorial Trophy verified itself as the most confused trophy in all of sports once again. The trophy is awarded to the player judged to be most valuable to his team by a poll of professional hockey writers. For some reason every year the candidates are always the top scorers. Most likely the source of the problem is journalistic ignorance, the other problem may be the title of the award, maybe it should be the offensive star player judged to be most valuable to his team. Crosby, Ovechkin & Henrik Sedin of the Canucks are the finalists. Missing from the list is Ryan Miller the Buffalo Sabres goaltender, the guy that should probably win. Last year Chris Mason should have been a shoe in.
Crosby would be my second choice, though if I was a writer given voting privileges, being from Pittsburgh and all I would definitely vote for him.
Since I mentioned Ovechkin I get to take a couple more parting shots at him. I was e-mailed these yesterday:
Here is Ovechkin celebrating putting one into the empty net on the driving range.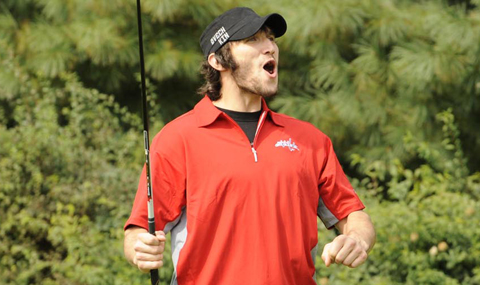 Here is Ovechkin playing with his little thingy on his day off.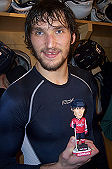 Should be a great game tonight, the Penguins will have out the big screen outside thanks to Versus and will be handing out nutritional t-shirts and Lumber rally towels at the door. Don't forget, alcohol is prohibited outside watching the game on the big screen. It's Friday!!! So we are recommending the Captain & Cokes once again. Buy 16oz plastic Coca-Cola bottles and replace 1/5 to 1/4 of the bottle with Captain Morgan Rum, enjoy. We here at PenguinPoop will be inside going broke paying the $8 fee for each beer.
Gametime is 7PM and can be seen in regular HD outside the Igloo on the big screen or in super HD inside the Igloo. The game will be broadcast locally on Versus or CBC depending on what country you live in.
* The "Gameday Poop" is provided to give you enough information to sound intelligent while talking about hockey for 10 minutes. Anything after that and your on your own.
Share this with friends: