Game time is 7:00PM and can be seen in Super HD at the Igloo or on FSN 
The Pens take on the red hot Ottawa Senators who have won their last seven games in a row tonight. Maybe I should say the streaky Senators. Before they won seven in a row they lost 5 in a row.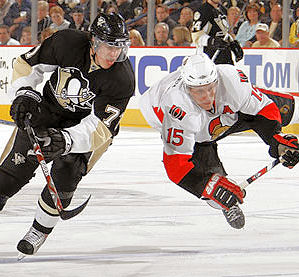 When everyone was looking the other way the Senators double secretly amassed quite a lineup of goal scorers Alfredsson, Kovalev, Spezza & CheeChoo all of which have decided to not score goals this year. Now that the Senators are healthy, no thanks to the Penguins, they come at teams with a 4 line balanced attack. When your 3rd line has one time 56 goal scorer 29 year old Jonathan CheeChoo on it, that's a balanced attack.
With all of the Penguins injuries, Goligoski, Talbot, Guerin, Kunitz, Kennedy and Godard. It would be hard to tell you exaclty who will be in this evening's lineup but I can tell you that the Pens have penciled in Guerin, Talbot & Godard and the rest are not listed and I can also tell you that Godard, Goligoski and Kennedy did not practice this morning. 
Dan Bylsma announced that Godard is out 4-6 weeks with a groin injury.   I think the Olympic break is going to be huge towards getting a healthy team back on the ice.
Chris Connors was recalled again, they are bouncing him up and down to save cap money, it sounds like Shero is planning on making a move, though there is one other possibility.  I think Shero noticed that when he brings a player up from the WBS Pens they usually score their first game up, to take advantage of that he is trying to send them up and down in between every game. It could work. The odd thing is that Connors is not listed in the lineup though with Godard now out I'm sure they'll fit him in. 
The Penguins will be wearing their Pansy Ass Ugly BAD LUCK Baby Blue Uniforms tonight.  PITTSBURGH IS BLACK AND GOLD!  The only U.S. city that all major sports franchises wear the same color.  Please get rid of these PLEASE. PLEASE. PLEASE.
Senators captain Daniel Alfredsson is back from his separated shoulder that was given to him by none other than the Penguins own Craig Adams in an 8-2 beating by the Pens 2 days before Christmas. Alfredsson didn't get to see much of the game while he was being taken care of in the catacombs under the Igloo, but he did hear something that made his pain a little worse ""I saw the first seven minutes of it, then I didn't watch any of the game, I just heard the horn go off more times than I would have liked."
Penguin fan favorite Alexei Kovalev is back in town tonight, Kovi who goes by Alex now or one of his nicknames "Kovi", the "AK-27" or the gay French "l'artiste", I'm sure talk radio callers will be all about how come the Pens aren't trying to bring this 36 year old who can only play 5 year stints on each team back into the mix, I can't wait. One of those callers will probably be our own Reg Dunlop.
Petr Sykora cleared waivers and was sent down to the Minnesota Wild's minor league team the Houston Aeros yesterday, he is not expected to show up,  though no one thought the Pens Miroslav Satan would show up at the WBS Penguins when he was put on waivers, but he did.
The Penguins signed seventh round draft pick (195th overall) forward Joe Vitale to a two year extension.
Go Pens!