The Penguins are taking on the red hot Toronto Maple Leafs this afternoon or this evening which ever one of those 5pm falls under and nothing is really at stake. If the Pens win it could mathematically eliminate the Leafs that are in last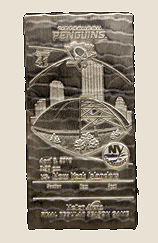 place, a place that they were so entrenched in that going 8-2 in the last 10 games hasn't removed them from it.
The big news is the cool stuff the Penguins are doing for the final regular season game at the Civic Arena. They will have have a commemorative ticket and at least 50 players from Civic Arena's ghosts of hockey past there. This is include Paul Coffey, Mario Lemieux, Larry Murphy and many others, mainly Penguins but maybe some Pittsburgh Hornets also. I would love to see one of my all-time favorite players Mike Bullard. 
Pittsburgh has won more Art Ross Trophy's than any other NHL city and for sure Mario Lemieux, Sidney Crosby & Evgeni Malkin will be there but a giant coo would be if they can land 5 time winner Jaromir Jagr. Two other top players in NHL history that may be missing is Ron Francis and Mark Recchi as they both have games that night with their respective teams. 
The Pens have also had more of the top 15 all time top scorers play for them than any other NHL team. 
04 Ron Francis        1798
07 Mario Lemieux    1723
09 Jaromir Jagr       1599 
12 Paul Coffey        1531
14 Mark Recchi       1442
15 Bryan Trottier    1425
Pittsburgh has an incredible hockey history including one of the earliest NHL teams and quite possibly the first professional players. I usually don't have a lot of required reading, but if you want to truly enjoy the final game and all the hoopla you must read today's required reading.
This is on of the best Pittsburgh Penguins Hockey sites: "Pittsburgh Hockey History"
Gametime is 5PM and can be seen in HD at the Igloo or on FSN Pittsburgh
* The "Gameday Poop" is provided to give you enough information to sound intelligent while talking about hockey for 10 minutes. Anything after that and your on your own.
.