What's wrong with Evgeni Malkin?  All I keep reading & hearing is how come Malkin hasn't shown up yet. If I told you that Malkin has 1 more point this year through 8 games in the playoffs than he did last year when he was the Conn Smythe MVP of the playoffs it wouldn't matter would it?
Evgeni Malkin and Alexei Ponikarovsky are like oil and water. Through 8 games of the playoffs Malkin has registered 4 goals and 5 assists and not one of the points that Malkin has registered the entire playoffs has been while Ponikarovsky is on the ice, not a single one, even though Ponikarovsky has been playing most of his time mainly on Malkin's line. The Penguins don't need to bench Ponikarovsky, it's time to get him off of the top two lines, he doesn't mix well with the Penguins top forwards.
The Penguins can make a big statement tonight by taking it to the Canadiens the way they did last game AND putting the puck in the net by playing a little scrappier. The Pens played hard and soft last game. They hustled their collective arses off yet didn't go into the high traffic areas in front of the net.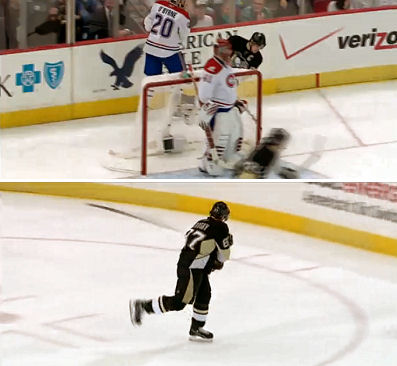 Sidney Crosby has been frustrated to the point of breaking his stick on the goal post then tossing it away. The Penguins need to keep Kunitz or Cooke or both on Crosby's line to keep players like Hal Gill from mugging him all game. Crosby needs to take a page from the Montreal School of Diving and start going down. I would have sworn that there was a sniper high up in the stands picking off Montreal players the way they were flopping down last game. It is sort of an embarrassment to the referee's, but if they only call penalties if you over embellish it, then have at it.
Montreal is using a simple game plan. They are boxing out 4 guys as soon as they get back, the way they would do on a penalty kill and they have one guy ready to break out as soon as they get the puck. They have been using the "Murphy Flip" (tossing the puck high in the air) to get the puck out of the zone without icing it. Because of Montreal's boxing out, the Penguins 3rd line which uses a cycling method has been very effective at controlling the puck along the boards, which is great unless you want quality scoring chances.
Don't sweat the Penguins losing last game, they have always played horrible on afternoon weekend games.
Jordan Staal is in Montreal along with the Pittsburgh Penguins, but is still listed as "day by day".  I've noticed that if there is a chance of the players playing the Pens change that listing to  "a game time decision".   Staal skated before the team practiced this morning.
Billy Guerin didn't skate this morning, no reason given.  Here is the lineup they practiced with:
Kunitz-Crosby-Dupuis
Ponikarovsky-Malkin-Talbot
Cooke-Letestu-Kennedy
Rupp-Adams-Fedotenko
Canadiens' defensman Andrei Markov will be out the rest of the season with a torn ACL.
It's looking like Jaromir Jagr will not be in a Pittsburgh Penguins' uniform anytime soon. Reports from his KHL team in Russia are indicating that he will be staying and playing in the KHL next year on the same team, though he hasn't been inked yet. The Edmonton Oilers have been the only team to making a serious push to add Jagr to there roster and I'm not sure coming back to the NHL and playing on a last place team is enticing enough for Jagr. Next up for Jagr? Jagr will be playing for the Czech Republic in Mannheim Germany on Sunday when they take on France at the IIHF World Championship.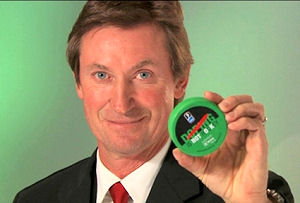 Speaking of the IIHF, they are starting a new anti doping/steroid campaign by using the green puck you see Wayne Gretzky holding up above. The green pucks will be used for warm-ups for the first three games of the IIHF World Championships. There has been no word on whether the NHL will be using them for Washington Capitals games.
Sidney Crosby likes to fish???  I just got finished reading an advance copy of tommorrow's Sports Illustrated article featuring Sidney Crosby called "Alone at the Top"  it answers a question I already new the answer to. Who's better Crosby or Ovechkin?  Pick a copy up and check it out!
Going Home… With many of the Pittsburgh players growing up in and around Montreal you could probably guess that many of their friends and families will be torn on who they are rooting for, not Maxime Talbot's mom: "My mom works in a high school and she has bets with all these students and everything on whether the Habs will win."
Will the Montreal fans boo Crosby tonight? My money is on yes, they boo their own team, why wouldn't they boo Crosby?
Additional reading:
My Mother's a Good Cooking
The Penguins need to bench Ponikarovsky & Fedotenko
Penguins Need To Be Better At Home
Gametime is 7PM and can be seen in HD at Bell Centre or on FSN Pittsburgh. *Versus and RDS & CBC will airing the game outside the Pittsburgh area.
* The "Gameday Poop" is provided to give you enough information to sound intelligent while talking about hockey for 10 minutes. Anything after that and your on your own.
Share this with friends: