NHL Commissioner Gary Bettmen trying to get all of his Ducks in a row for when the NHL contract with Versus television runs out this after this season.   Many NHL fans are unhappy with the Pittsburgh Penguins getting their second Winter Classic game while their team hasn't even played one.  Bettman hoping for a ratings bonanza is clamoring for a bidding war between ESPN,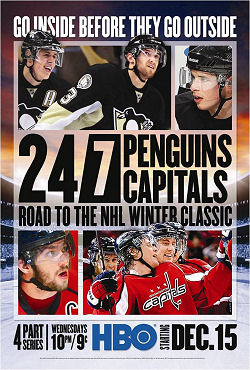 Versus, NBC & Fox for the rights to air the NHL next season.  He's lined up his two biggest stars Sidney Crosby and Alexander Ovechkin for his big Winter Classic game, and has allowed HBO's 24/7 to come in and do a behind the scenes all access sort of program that will delve into the Pittsburgh Penguins and Washington Capitals players personal lives.
The two teams seem to be handling this intrusion a bit differently and it may be showing in the on ice product.  If you read the hockey boards around the internet,  fans truly believe it's effecting the teams play.
Brooks Laich of the Washington Capitals said this when HBO came and was just filming a short promo for the show: "They stepped on the ice today and a couple guys weren't too happy with that. They kind of interrupted a little meeting we had before the practice. Those boys better watch their step. A lot of our guys have short fuses, especially if they start getting in the way of us winning hockey games and business as usual around here." On the flipside, the Pittsburgh Penguins GM Ray Shero said "For any of our players, if you said you have a chance to be on HBO, how great is that, this is good stuff and it'll not only help promote our sport, but the beauty of hockey and the personalities involved. Everyone's going to enjoy it."
The Penguins who have been to the Stanley Cup twice in the last three years are used to cameras, thousands of them.  Other than Ovechkin who all summer had cameras following him for his new "Alex Ovechkin, the Gr8"  DVD, the rest of the Capitals probably are not used to the publicity which showed when coach Bruce Boudreau said "I thought we were filming a full-fledged movie here"
The performances of the two teams on the ice are resembling the two different sentiments about the HBO crew's filming. Since HBO 24/7 has began primary filming on December 5th, the Washington Capitals have lost 4 games in a row. They have been shut out twice including Sundays drubbing by the New York Rangers 7-0. The Penguins on the other hand have won all three games they have played and have outscored their opponents 12-5. 
The players, the media and the NHL can tell you all they want about the players are not acting different, but think to yourself when was the last time you saw Ovechkin drop the gloves to fight like he did on Sunday.  If you guessed he's only dropped the gloves once before Sunday in his entire NHL career and that was over 4 years ago, award yourself a gold star.  What are the chances 24/7 would just happen to be there?   What amazing luck.   Is Bruce Laich and his band of merry short fused players ready to take on HBO yet or do they need to lose a few more?
The NHL is trying to make like getting on this 24/7 show is huge coup.  Even if you figure in that HBO's first televised sporting event ever was a hockey gameback  in 1972 between the Canucks and Rangers, they really haven't done much with the NHL since. HBO 24/7's show itself just like HBO is heavily invested in boxing, and even though it has won many sports show awards, the last 24/7 endeavor, Pacquiao-Margarito 24/7 just didn't have an audience, one of the episodes had less than 300,000 viewers, less than some of the Penguins regular season games on FSN Pittsburgh. The NHL is going to be helping HBO's 24/7 just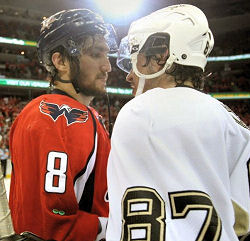 as much as 24/7 helps the NHL. 
On top of that the NHL & HBO are creating an imaginary rivalry between Pittsburgh and Washington.  They are saying that it is the top rivalry in the NHL. While the Penguins may possibly be Washington's top rival as you will witness in 24/7 when they most likely show the Washington team blowing up a fake Penguin or if you happened to see potty mouth coach Boudreau's carpet commercial where he beats a penguin with a hockey stick.  Ask any hockey fan who the Penguins biggest rival is and they will tell you no question about it, the Philadelphia Flyers, then maybe Red Wings, the NY Rangers and Devils.  A rivalry needs competition and hatred, the hatred is there, but the competition was never, Washington winning 1 playoff series in 5 years just doesn't cut it.  Until Ovechkin beats the Penguins in a playoff series, there is not a rivalry. 
I will at some point watch the 24/7 series, I have no doubt that it will be well done and entertaining.  Yet I still find myself hoping that the person who wrote that Ovechkin is "Arguably the best player in the solar system" into the preview isn't the person 24/7 is counting on for their hockey knowledge.  I will also be wondering why when 24/7 airs this Wednesday night at 10PM on HBO that the largest markets that would normally be watching it, both Washington and Pittsburgh have home games.  As a matter of fact the Penguins have games every night all four episodes air and 3 out of the 4 of those are at home. Brilliant.
You can watch the first episode here:  http://video.penguins.nhl.com/videocenter/console?catid=1  Sorry, the dirty words have been bleeped out!