Hello again fellow Poopers!  Welcome back to the second edition of "I KNOW NOTHING!". More musings and abusings regarding the greatest sport in the world! 
POOP FOR THOUGHT – Last night I had a dream that Elvis came back to earth for one more concert. Fox Sports Pittsburgh for some odd reason had the broadcasting rights. Unfortunately they decided to show Henry Kissinger reading the white pages on TV and put Hall of famer Elvis' concert on the radio! Feel free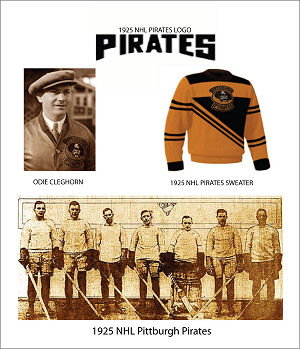 to make a parallel between FSP and our beloved Mike Lange! 
OLD SCHOOL! I came across some interesting facts about the Pittsburgh Pirates…WAIT! Before you hit delete on this post! I am talking about the NHL Pittsburgh Pirates of 1925-1930. The Pirates whose colors were black and gold, opened their inaugural season at the now defunct Duquesne Gardens. Check out some of the amazing items of note below! 
The Pirates beat Montreal goaltender Georges Vezina 1-0 in what would be his last NHL game ever. He died of tuberculosis 4 months later. 
The first ever NHL game played in Pittsburgh took place on Dec.2, 1925. 8,200 fans paid $1.00 to watch the Pirates lose to the New York Americans 2-1. The Pirates and Americans later combined for 141 shots on goal in a single game in a 3-1 NY win, an NHL record that still stands today. 
Pirates coach and occasional player Odie Cleghorn was the pioneer of changing lines on the fly. Odie Cleghorn also was the first coach to roll 3 lines. Until this point coaches left players on the ice until they were exhausted. 
In 1931 The Pirates moved to Philadelphia while a deal for a permanent arena was being hashed out in Pittsburgh. The team was renamed the Quakers and donned orange and black uniforms (colors later adopted by the Flyers franchise). In 1980 The Boston Bruins filed a complaint with the NHL, but the Pittsburgh's request to change to black and gold was upheld because an earlier NHL franchise in the city, the Pittsburgh Pirates wore in the 1920's! 
PLEASE HELP!  Does anyone know of a good stain remover for hockey jerseys? I have a superstition about washing mine only if the Pens lose while I'm wearing that certain Jersey. The last time my jersey was so stained (wing sauce, gravy, jagr, beer, etc.) when I washed it the whole house smelled like soup!                               
FILE UNDER WTF? Check out this pic of the Islanders Denis Potvin! They retired his number 5 sweater along with his pants and his dignity! (Notice 1 more thing that's missing?)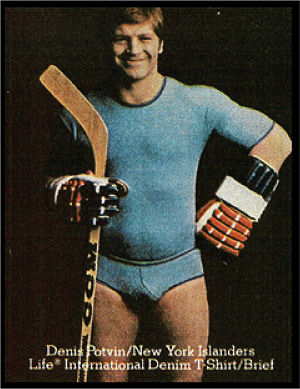 JUST FOR FUN! 
It's still fun to yell "pass it to Lemieux" during futile powerplays!
 Bring back the Chili goal! I can tell that most off the people in my section are relatively new fans because when I chant "chili, chili, chili" after the 6th goal, they think that I am just hungry for Chili. 
If you are choosing sides for a pickup game at the rink, NEVER pick a goalie that has clean pads! 
Canadian bacon is NOT bacon! 
Fedor Tutin is a fun name to say. 
My friend Benj still giggles when Mike Lange says "soft dump in the corner" or "dig it out of your own end". 
Matt Cooke looked good! 2 goals and 3 points in the last two games, not to mention a +3 rating.  I give Cookie and Tyler Kennedy huge kudo's for scrappy play reminiscent of what we had last year when the Crosby/Malkin show was on hiatus!

Kris Letang (that's French for "The Tang") blocked an incredible 8 shots vs. Toronto last week.  That's 1 more than the entire Leafs team!

Sarge also helped to burn the Leafs with 2 goals, an assist, and a plus 3 rating!  He's close to scoring a point per game with 7 goals and 26 points in 30 games!

Appologies to Go-go!  I laid it on thick last week but after further review, the numbers add up to more than I expected.  Go-go posted an even-plus minus on the trip and now that he is promoted to the PP point he might cash in more than the experiment with Malkin did at point.  Alex is a young guy and is posting better numbers in every catagory than scouts have projected.

 Ben Lovejoy was an impressive +8 in his short stint with the big boys!  He even tallied a few assists along the way. 

Last week I mentioned that Tyler Kennedy looks like Chief Wiggum. While scouring the internet, I found that many notable players/personalities have Simpson look-a-likes…Enjoy!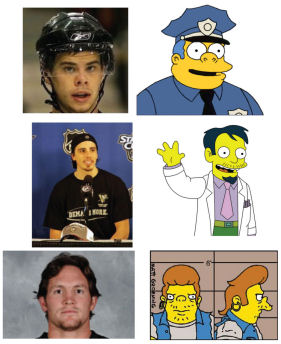 Flower settled down and resumed playing technically sound in net. You gotta love his "go to move" poke check on breakaways!  I'm guessing Fleury took notes from Vezina winner and Hall of Famer Johnny Bower. If you get a chance check out Johnny Bower on the link I provided on Youtube. He's tough as nails and played until he was 46 years old!  

http://www.youtube.com/watch?v=xLQYw3i6y3U 

Speaking of Flower, does anyone know how he broke his finger? I've got to say that I'm not a big fan of how players are taking runs at him without paying a price! Back in the day a mere touch of a goaltender resulted in an instantaneous pummeling!  Anymore not even a stinky facewash is dolled out! Considering we had to go 3 and 4 deep against Vancouver, maybe we should be protecting these guys a bit more! 

Everyone should be embarrassed for leaving Curry and "The Soviet Block" out to dry. It looked like we were skating around our own end with pool cues! Ugly goals count but I think we used a months worth on this last road-trip.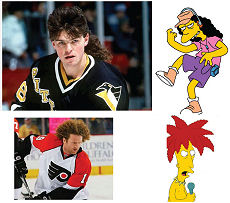 LOOKING AHEAD!  Tuesday nights game is finally a home game! We face an Islanders squad who plays the night before in New Jersey. Im hoping our guys are well rested and will score like a rich kid on prom night! Thursday nights game vs. the Crapitals will no doubt be one for the ages! It's the first time we've met all season and I'm pretty sure the Craps are still stinging a bit from the playoffs last year! 
HOCKEY SLANG!
KICK IN THE NUTS GOAL – any goal scored against 2 minutes or less in or with 2 minutes or less left in a period. Any goal scored late on a penalty kill. Any short handed goal given up. 
FONZIE'S HOUSE – Any goal scored upstairs (above the Cunninghams). 
TRIVIAL POOP!  NHL Ice is 3/4″ Thick and kept at or near 16 degrees F. The average rink requires 10,500 gallons of water to make the ice. After new ice is 1/2″ thick, the lines, logos. etc. are painted on, then the remaining 1/4 of ice is laid. (NOTE: The Ice in detroit last year reached a record depth of 2″ after game 7 of the Stanley Cup Finals. This anomaly was blamed on Marion Hossas tears!) The dotted red center line was added decades ago so that viewers could distinguish red/blue lines while watching broadcasts in black and white! 
OK 1 more:                                  Mark Madden from 105.9 the X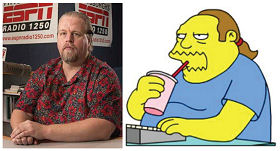 CORRECTION FROM LAST WEEK: The Flyer fans purse mentioned in my post last week was not a purse but a pocketbook. 
THAT'S ALL THE POOP I HAVE FOR NOW SO I LEAVE YOU WITH…….SKATING MONKEYS!   http://www.youtube.com/watch?v=pOj_QoSH6is