I'm pretty sure that ALL of you have seen the movie about a hockey team from Johnstown that leaves their home city for the east coast?  Before I go on I want you all to go grab a box of tissues because this one is sad!  In a true case of art imitating life, the Johnstown Chiefs are leaving Johnstown!  Barring a miracle that includes procuring new ownership, the team will be moved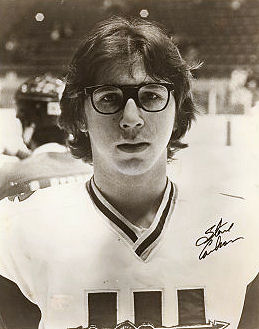 to Greenville, South Carolina after this season.  The Johnstown War Memorial might also go to the wayside since there would be no major tenant.  Since 1941 professional hockey has been played in Johnstown.  Teams that have called the Johnstown War Memorial home include the Bluebirds, Jets, and of course the Chiefs.
 A hockey fan by the name of Nancy Dowd wrote Slap Shot.  When it came time to cast players Nancy suggested that director, George Roy Hill, give the Carlson Brothers and Davey Hanson a chance to play themselves.  The filming was to take place in the off season, but Jack Carlson got called up because Edmonton made the playoffs. Davey Hanson took Jack's place and Jerry Houser was cast to play Dave's original role, "Dave 'Killer' Carlson."
 The guys went on to have fairly successful hockey careers though they say that they played for the love of the game and not the love of money. The guys professed that they were so broke that their pre-game meal consisted of beef jerky and that stinkin' root beer.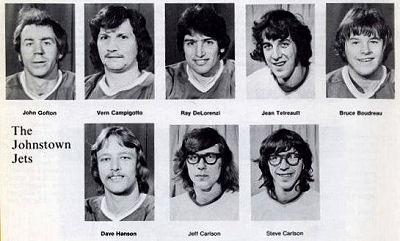 (Jeff – 11 years, Steve – 14 years, Dave – 10 years, and Jack – 12 years).
The Hanson Brothers have appeared before millions of fans in venues all over North America. Jeff, Steve, and Dave have helped to raise more than twelve million dollars for charity and counting!
Considering the above, maybe there is someone out there with the loot and the heart to buy the Chiefs and save the day (and hockey nights) in Johnstown?

 Top Row: Guido Tenesi, David Birch, Steve Carlson, Jeff Carlson, Francois Ouimet, Billy Reed, Jean Tetreault
Middle Row: Ed Neisner, Vern Campigotto, Bruce Boudreau, Reggie Bechtold, Henry Taylor, Wynne Dempster,
Bottom Row: Louie Levasseur, Galen Head, Dave Hanson, John Mitchell, Jim Cardiff, John Gofton, Ron Docken
And now!  A brand new segment called "Ask Shultzie"!!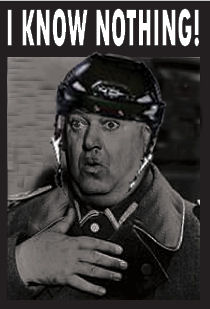 Pensfan66
writes:…First off, love the blog!  Secondly, here is my question:  There is a guy who sits in front of us at Mellon Arena who's toupe' is so bad it looks like road kill strapped to his head.  Should we tell him to take it off during the national anthem? 
Yes, if you are bigger than him.
Cottoncandyhere writes…Dear Shultzie, There is a very old couple who sits next to us at the arena.  They have season tickets as do we.  That said, is it OK to scare them by abruptly yelling hoping that they have heart attacks and die so that my  friends can buy up their season tickets?  Yes if you are bigger than them!
Pensfacts77
writes…Dear Shultzie,  I noticed that in your fantasy hockey league you are in first place and Craig Patrick is in last place.  Should you tell him that Ulf Samuelson and Ron Francis no longer play?   Also is it true that Craig Patrick took a leak on Naslunds
Lester B. Pearson Award
? 
YES and No.
Wingsrchamps writes…Dear Shultzie,  What is the ice at the Joe made of?  90% water, 10% Marion Hossas tears!
2fat4U writes…Dear Shultzie,  Why don't the Penguins go out and get a giant fat guy to play in net thus covering all possible holes?  I've seen people on the bus that are t least 4′ x 6′.  They might do it for do-nuts! Good question.
Philbilly writes…Dear Shultzie, is it true that Eric Lindros pooped his pants after that hit from Kasparaitis? Yes. In a side note, after that season Craig Patrick called Lindros to make him a contract offer. Lindros apparently knocked himself out by answering the phone.
Pens66dog writes…Dear Shultzie,  What number has been worn least in the NHL?  The answer is 00 and it was worn by goaltender John Davidson.  I'm not sure but it think that number is no longer available to NHL players.
Markus87 writes…Hey Shultzie,  My friends and I argue about whether it is called a jersey or a sweater.  What say you?.  I don't know.  Maybe if it is worn while playing hockey it is a sweater.  If it is worn while watching hockey it is a jersey.