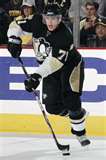 Is it time to consider trading 71?  I never thought that I would be able to consider this as a possibility.  After watching the winning streak, the last four games without him. and the two game losing streak with him scoring all three goals, I am open to the thought. 
Bylsma likes his team to play North-South hockey.  Every player on the team tries their best to play that type of game.  Everyone except Malkin.  He likes a game that takes risks at times instead of the simple play.  While thrilling to watch when he executes those plays, the turnovers he causes when he doesn't, go completely against the way Bylsma wants the team to play. 
The questions are:  Could this team be better without 71?  What wingers might the Pens be able to get in trade or with the $8.7Million cap spare? 
As I look over the NHL, I see two players that I would like to have who would be great fits for the Pens.  Both play for Anaheim — Corey Perry 16-20  5.3 and Bobby Ryan 14-12  5.1.  A trade involving one or both of these players might be just what the Pens need.  Since their cap hit together is $1.7M more than $7M, there would have to be some other tinkering.  I would like to see the Pens get both, so we have to also give up a $2-3M a year player.  I'm thinking Goligoski.  I think this would be a bold move by both teams, and one that would benefit each club.
The other alternative is to find a way for Malkin to play a little safer game — not stifle him, but definitely shorten the leash a little.  If he can't or won't do this, it may be time to pull the trigger.  That's the view from 207.