A few days ago former 56 goal scorer and Rocket Richard Trophy winner Jonathan Cheechoo was placed on waivers and the Penguins and every other team in the NHL passed on him and his 3 million dollar salary. Cheechoo cleared waivers and joined Ottawa's AHL minor league team the Binghamton Senators.  The Pittsburgh Penguins have been searching for a sniper for either Crosby or Malkin's line for an eternity and Cheechoo is the best candidate for the job.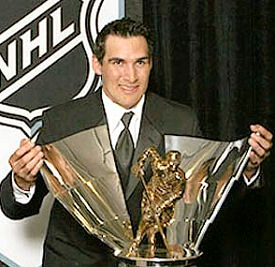 I like everyone else would like the Penguins to land a top notch rental Marian Hossa type player, but it's just not going to happen. One, that player is just not out there and two, the Penguins just don't have the salary cap to do it this year without getting rid of a Gonchar or Kunitz.
Dave Molinary of the Post-Gazette offered that Cheechoo's salary is too high for the Penguins to consider him.  He also offered that because of his output as of late he wouldn't very good, and will probably spend the rest of the season in the AHL.  You can read it in his question and answer: Is there a chance the Penguins might sign Jonathan Cheechoo?
I offer this:  Molinary's statements are just not true.
With the salary cap and the Ottawa Senators bid for the playoffs, they are not stupid enough to leave $3 million dollars in salary cap sitting in the AHL. Most likely they had hoped that Cheechoo would either get picked up off waivers or he would not report to the AHL. Unfortunately for them neither happened. Cheechoo reported to the AHL. While things didn't start out that well for him last night landing a tripping penalty 50 seconds into the game, he recovered by scoring the first goal for a Binghamton team that didn't score the night before in a 7-0 loss. He wound up with a goal and an assist and a win.
Cheechoo has been granted the Olympic break off by the NHL and will not have to play for Binghamton again until March if he chooses not to. Most likely he will not play another game for them.
As for his salary, for the Sens to get rid of it, they have 2 options. They can trade him or they can have him re-enter waivers at which point they will be responsible for half his salary, and he most likely will have plenty of suitors at $1.5 million a year for two years. Well worth a shot for a 29 year old sniper. Most likely for the Penguins, Cheechoo will not be available for picking off the waiver wire for that price as the Pens are very close to last in line for pickings according to waiver rules.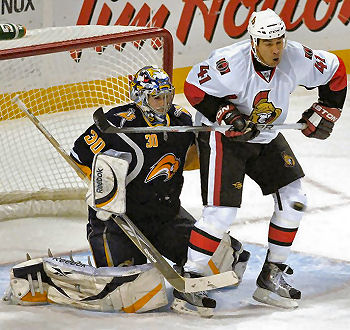 As far a Cheechoo's output, there are a few factors that led to the lowering of his goal point average. Starting with the Sharks, Cheechoo had a led the NHL with a 56 goal year then a 37 goal year. Not that bad considering all the sudden he was the guy to guard. Then he started having groin and hernia trouble leading to missing over 20 games each of the last two seasons with the Sharks. He had a double hernia surgery in the 2009 off season.
This season for the Senators he was pretty much treated the way Dany Heatley and many other Senators have been treated which led them begging for the door. Not to long after the season started, Cheechoo who just a few years before was the top sniper in the NHL, got minimal ice time (under 12 minutes a game) and never saw the light of day on the starting powerplay. Then he got demoted to 4th line and eventually to the AHL. It is a known fact that the Senators don't have a clue how to handle players and there is a reason top players on the team beg for a trade every year then blossom elsewhere.
As for the Penguins, they need a right handed sniper on the powerplay.  Billy Guerin is a great 39 year old player, but I'm just not seeing it from him on the failing Penguin powerplay. Keep in mind no one wanted Guerin last year when the Islanders benched him at the end of the season until Shero scooped him up at the last second for a bag of pucks (a fourth round draft pick that ended up being a 3rd round pick because the Pens went to the finals).
When the Penguins landed Hossa a few years ago, Malkin's 9 million a year salary had yet to kick in. Now landing a proven quality winger will not happen for the price that the Penguins can pay. I'm sorry, it just won't.  For the Penguins to have a quality linemate for our superstar's they need to take a chance with either a prospect or a proven player that has fallen on bad times.
Cheechoo's shooting ability will open up ice for both Crosby and Malkin, and I promise you that being on either of their lines he will score more and play better than Fedotenko, Guerin and Talbot and any of the other Pens that have tried and failed. At his young age of 29 he could be a fixture for years to come as he possibly would be willing to take a lower salary after seeing life at the other end of the spectrum.