Last night at the Flyers game the boo birds came out at the end of both of the Penguins powerplays. This is the kind of behavior more befitting a Philadelphia fan. I realize that the 5 or so home games right after Christmas that there are way more fans at the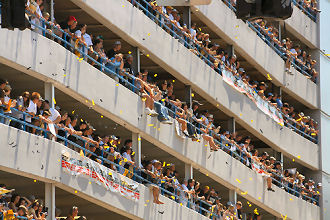 games that do not usually go to the games. It is a younger crowd, many of which received their tickets as gifts over the holidays. Many of these fans get upset that the team is not winning the one game a year that they get to see live and take it out on the team. This is still not a good excuse to act like a Philadelphia fan.  Forbes magazine rated the Penguin fans the best in the NHL for crying out loud!
The Penguins do go through some minor skids here and there with a good excuse. It is hard to keep up such an intensity when you play as many games as the Penguins play. Two years in a row the Pittsburgh Penguins have made it to the Stanley Cup finals along with Detroit. There is not one other team in the NHL that made it past the first round twice in the last two years, as a matter of fact the two other teams that played in the semi finals last year, Carolina and Chicago, didn't even make the playoffs the year before.
The last two years the Penguins played 44 games more than most other NHL teams. That is over half a season more. The only other team to play that many games is the Detroit Red Wings, and if it was time to start the playoffs today, Detroit would be sitting at home. The Penguins even with losing five out of the last six are still in 4th place, so start acting like Pittsburgh fans and quit booing your team.  The Pittsburgh Penguins are the reigning Stanley Cup Champions and do not deserve this kind of treatment.