Similar to my absence on the penguin poop, Malkin has been highly inconsistent during this year's playoffs.  That will change during game 3 due to some fantastic soup cooking from Mrs. Malkin.  Aside from that, there is atleast one thing I would like to see changed before the pens head into Montreal.  Disco, please stop giving Fedotenko chances to prove he's not worth his roster spot.  I know he was great in the playoffs last year, but enough is enough.  His penalty in game 2 was as costly as it gets, stealing away all of the pens momentum.  That said, I am actually glad the Penguins lost game 2, because every once in a while, it's good for a team of this caliber to get a wake up call.  Too many people were overconfident going into this series, and the pens needed to see that if they don't play their A game, they will not win.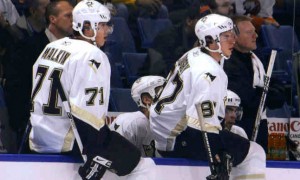 I have to disagree with the idea of benching Ponikarovsky.  The past 3 games he has played with more intensity and grit than ever, fighting for loose pucks, and beginning to forecheck more often.  His play will begin to pay dividends, while Malkin's numbers will start to improve during the remainder of the series and playoffs.
Even though Fleury's play was not to blame for the game 2 loss, he certainly was out goaltended by Halak on the other end of the ice.  I don't feel Halak can continue to do what he did in game 2; not with the skill set the Penguin players possess.  Meanwhile, Fleury has a pretty good record in the playoffs, and I would not replace him with anyone in the league.  He will stand on his head when necessary.
It should be a pretty simple game plan.  With Staal out, the pens cannot afford to take dumb penalties.  Smarter hockey means less energy wasted, which means more chances in the offensive zone.  More offense means more shots, which means even if Halak has 74 saves, he will still let up 4 goals.
I'm usually a pretty bold predictor, and so I will continue that trend.  In game 2, the pens got the jolt that they needed for this series.  In the first series it was the Sutton hit on Leopold that lit a fire under the pens, and in this series it was the blanking of Crosby and Malkin that will open the eyes of the Penguins.  With a better sense of what needs to be done on the ice, Malkin and Crosby are going to reach a new level of domination through the remainder of the playoffs.  Though not effortlessly, the pens will win the next three straight, ending the series this Saturday in Pittsburgh.
Got Malkin?
p.s.  Hal Gill is not that good.