The big win by the U.S.A. hockey team was much more for them than just a moral victory. The victory put them in first place in the standings and their path to the medal games do not go through Canada, Russia or the 2006 Gold medal winning Sweden team plus they get a first round bye. As for Sidney Crosby, his team dug themselves into a hole that only a team of that skill set would be able to dig themselves out of. If they win tuesday against the Germans, they will have to play Evgeni Malkin's Russian team in the Quarter finals on Wednesday. The winner of that game will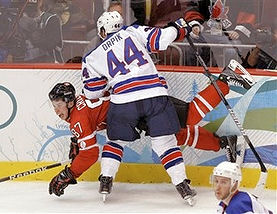 most likely have to play undefeated Sweden in the Semi-Finals.
Any questions about how Brooks Orpik would play Sidney Crosby will be laid to rest with this picture.  I can only repeat what Reg Dunlop said about the game:  WOW!
I personally want to apologize to Brian Burke the GM of the US Hockey team who I have been saying did a poor job of picking the players for the team.  Sorry. Ron Wilson the U.S. coach and Brian Burke are also coach and GM of the Toronto Maple Leafs. What do the fans in Toronto think about them beating their Canadian Olympic team all the while not being able to get the Maple Leafs into the playoffs?
I expressed my concern about Burke's choosing of Ryan Whitney to the U.S.A. team and had about 15 players ahead of him that I would have picked.  Ron Wilson basically benched Whitney during the Canada game last night giving him only a little over 5 minutes of playing time.  Unfortunately, Pittsburgh native Ryan Malone got benched also recording the second shortest amount of playing time, a little over 6 minutes.

Malkin, Crosby and 6 other players are tied for the point lead with 5.
I Can't wait for the Crosby, Malkin, Gonchar reunion on Wednesday. It might be time for the Canadians to play a goaltender who can win under pressure, a goaltender that has won the big games: Marc-Andre Fleury.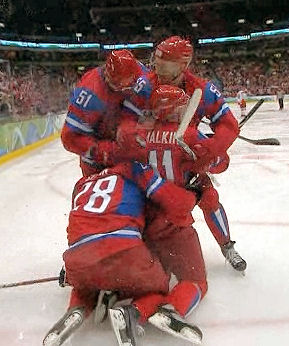 If you were wondering what the NHL standings would be right now if they used the Olympic scoring system of 3 points for a win, 2 for a overtime win and so on… Over at "the Hunky and the Mick" they figured that out for you: "NHL Standings… Olympic Style"
I have come to the conclusion that the only way NBC commentator Mike Milbury would consider something a penalty was if it was against him.  If you ever saw him coach the Boston Bruins, all he ever did was complain that the refs didn't make calls, maybe you remember the infamous Koharski "go have another donut" episode. On NBC all he does is say that they should leave that stuff go, let the players play. I have two words to describe him: Hypocrite and Idiot.  Please get him off the air he's ruining hockey.
If there was any question who I am rooting for, it all came out in the wash yesterday while screaming and cheering while watching the games, it goes in this order:   USA, Canada, anyone who plays Russia. My apologies to Malkin and Gonchar but I'd rather see Ovechkin lose.
I love that Ovechkin only celebrates with his team if he got a score on a play. Notice him not in the picture above on Malkins goal. This guy is not a team player, he is not a player who can play in a pressure situation. Here is NBC's isolated video of Ovechkin celebrating after Malkin's goal in his "I wanna be a Penguin" colors: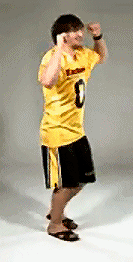 Orpik 1 – Crosby 0 – I'm hoping for a rematch.