We asked our PenguinPoop readers to give us the top ten reasons they felt Sidney Crosby didn't go and do David Letterman's Top Ten and here is the answers that we got: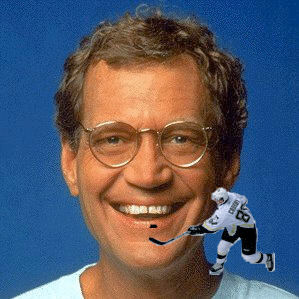 #10) He was too busy searching for his hockey equipment.
#9) He couldn't get off the phone with Ovechkin, who just kept sobbing.
#8) Because David hit on his mother.
#7) He was crying in the fetal position after a nightmare that he was actually Marian Hossa.
#6) He was waiting for Leno to call.
#5) Matt Cooke checked him in the head during practice and he forgot who he was.
#4) Letterman wouldn't let him shoot pucks at the gap in his teeth.
#3) He was too hungover after partying on the ice with the Canadian womans hockey team
#2) They wouldn't fulfill the rider in his contract of having a dryer back stage to shoot pucks at.
#1) He had to babysit Lemieux's kids that night.
We did get lots of other answers like:  Afraid Dave would hit on him.  &  He was too busy winding Ryan Miller's watch for him while he cried.  Then of course someone gave us what probably is the real reason:  He was trying to get the media off his back.
The tough part was picking out the best ten!  Thanks Everyone!