First off, I want to say nice work to the boys for the nice victory yesterday afternoon.  They played a wonderful game.  It could have ended sooner had they capitalized on one or two more of the many chances they had, but a great game nonetheless.
I thought for sure the Penguins would steamroll the momentum from yesterday's victory into tonight's game.  Unfortunately, they did not necessarily do that.  Not until the second period, anyway.  The Pens started very sluggishly.  This may be the most frustrating thing about the Pittsburgh Penguins.  They can play awesome one day and play horribly the next.  In the case of tonight's game, it was a period-by-period change.  I understand that they are human, and humans have good days and bad days, but these are highly paid professionals.  It just seems to me that there should not be such large swings in the level of play.  Enough with that tangent.  The boys were able to fight their way through the sluggish play they began the game with, and go on to get the victory.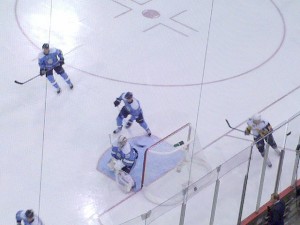 The Pens scored a power play goal in the second period that seemed to instantly change their collective demeanor.  The momentum really changed at this point.  They went on to add three more goals in the last half of the second period to go ahead by two.  They continued to play at a higher level for the balance of the game.  They had to hang tight at the end as Buffalo was awarded two power plays in the last few minutes of the game.  The Sabres did score on one of the power plays, but could not get the other goal they needed to tie the game up.
Notes:
Just in case you were not paying attention, that Crosby guy caused the Penguins faithful to litter the ice with hats (and in tonight's case the give away shopping bags)
Malkin continues to play well.  He had two assists tonight.
Staal also is playing unbelievably well.
Skoula was a huge disappointment again tonight.  What happened to this guy?  He played so well in the first part of the season.  Now, anytime he gets a chance to play, he is horrible.  He played just over 4 minutes and was a -2.
The power play was 1-2 tonight, but the one they scored was as huge as it could have been.  That goal turned this game around tonight.
Congratulations to Mark Letestu for scoring his first NHL goal tonight.  By the way, that was the first goal in the last 18 that Crosby or Malkin did not figure in on.
Keep up the momentum boys!