The thing that is the most frustrating for me regarding these Pittsburgh Penguins is their inconsistency.   We know this team can compete at a very high level.  We have witnessed it for the last two and half seasons.  Most recently, we watched as the Pens played very well during the first part of this season.  Now, we see it on occasion, about every third game.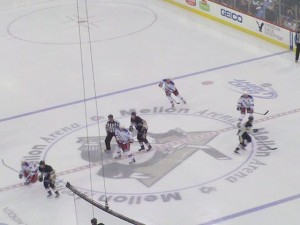 Their inconsistency can even go on a period-by-period schedule.  There have been games where they play two periods of lackluster hockey only to turn it on in the third period.  When is the last time that you can say that you saw the Penguins play their best for a full 60 minutes?
How can a team be this inconsistent?  How can a team look at times like the defending Stanley Cup Champs that they are, and then turn around and get outplayed by the struggling New York Rangers?  To make matters worse, the Rangers didn't have their only real scoring threat on the ice (Gaborik left at the 4:02 mark) and they basically played the entire game with 5 defensemen. (Del Zotto left with an injury early in the first period)
One would think that these are the conditions that would open the door for the Pens to win easily.  Not so much!  Instead the Pens lost in OT having surrendered 39 shots on goal to the lowly Rangers.
What has happened to the super high-energy style of play that Bylsma instituted upon his coming to Pittsburgh last season?  When he took over, he preached a system that focused on moving the puck in a north-south direction with a very aggressive fore-check.  The idea was to keep the puck hemmed in the opponent's zone, thus limiting the time of possession in the Pens zone.  Of course having the puck in the opponent's zone for longer periods of time will lead to more scoring chances as well.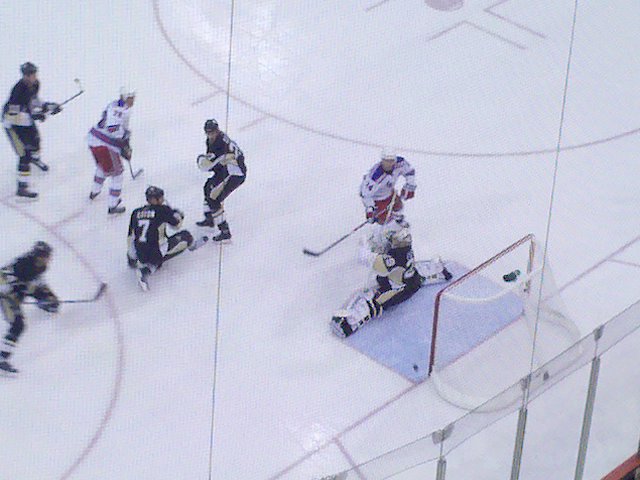 I am not seeing this system in full effect right now.  Is it time to ask some tough questions of Bylsma?  Is he losing the locker room as Therrien did?  Why have they strayed from his initial game plan that brought the cup to Pittsburgh?  I don't think that the season is lost by any means (the Pens are 2 points out of first in the conference and sit in fourth overall in the east), but it is something that needs to be addressed.  Inconsistent play will not win a 7 game playoff series.
And I hate to beat a dead horse, but when are some of the non Malkin or Crosby players going to start chipping in on a regular basis?  Crosby and/or Malkin have figured in on something like 28 of the last 30 goals scored.  This has to change!
Notes:
Congratulations to Crosby for getting his 40 goal last night.  His career high had been 39.
Brent Johnson sustained the dreaded "lower body injury" last night.  He will be evaluated today so that the Pens can withhold the actual injury from us.
Malkin's assist on Crosby's goal extends his scoring streak to 12 games.
One more game before the Olympic break, let's go out on a good note Sunday.