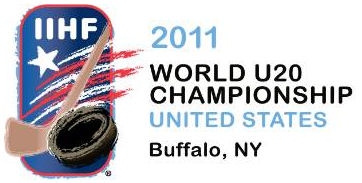 After this article was written, both Philip Samuelsson and Brandon Saad were cut from the US roster on the last day of cuts.
They say it's the most wonderful time of the year, and if you are a hockey fan like me, it certainly is.  The NHL season is in full swing, the Penguins are near the top of the entire NHL in points, the Winter Classic will be here at Heinz Field two weeks from today, and to top it all off, the IIHF Under 20 World Junior Championships are about to get under way again, and this year, it is being played right here in America.  If you have never heard of or watched the WJC's, you don't know what you've been missing.  It is a tournament made up of teams from 10 countries broken up into two divisions of five teams and played as a round robin over the a week's time until it becomes a one and done style playoff format.  It is a tournament made up of some of the best up and coming hockey prospects in the world.  I say some of only because recently many 18 and 19 year olds have been making the rosters of NHL teams, and most of those do not get released by their teams to play in the tournament, and trust me, there are many players who either have not been drafted yet or will only become eligible for the 2011 or 2012 draft who are trying to make a name for themselves.  Some of the names from last year's WJC's that currently litter NHL lineups include: Taylor Hall, John Carlson, Alex Pietrangelo, Derek Stepan, Jordan Eberle, Oliver Ekmann-Larsson, Cam Fowler, Magnus Paajarvi, and Nikita Filatov.  If you go back to 2004 and look at Canada's roster, you would find not only Sidney Crosby's name on the team, but Marc-Andre Fleury and Max Talbot as well.  That team was loaded for bear and actually led the US 3- 1 in the third period of the gold medal game when tragedy struck when about eight minutes after Ryan Kesler had tied the score for the US, Fleury, who had come out of the net to clear the puck, accidentally shot if off of Braydon Coburn, his own defenseman, and the puck ricocheted right back into his own net.
At this year's WJC's which are being played in Buffalo and Rochester, there are three more Penguin's prospects and even two local boys from here in Pittsburgh which may actually be a first.
First up for Canada is the Penguins' 2009 first round draft pick Simon Despres.  A long shot to make the Penguins coming out of training camp, Despres made it to the final round of cuts this past Summer before being returned to the St. Johns Sea Dogs of the QMJHL where he is tearing it up again.  In the 22 games he has played in, he has registered 26 points including nine goals, and he is a +19.  He has everything the Penguins are looking for in a defenseman.  He can be an offensive force, or with his size, 6'4″/214, he can be a shut down defensive type as well.  The only thing that will most likely have him playing for Scanton/Wilkes-Barre next season is the log jam ahead of him in Pittsburgh with Orpik, Martin, Michalek, Letang and Goligoski all having recently signed long term deals and Lovejoy and Engelland playing superbly.
For Team USA, also on defense, we will get to see Penguins' 2009 second round draft pick, Philip Samuelsson who is currently in his sophomore season at Boston College.  Samuelsson, who is more of a stay at home defenseman at 6'2″/200 will be one of the shut down pair for Team USA.  He currently has six points in 16 games for BC, one of the top teams in Hockey East.  He will most likely be finishing up his four years at BC before attempting to make either the Penguins' or Baby Penguins' rosters.
A third Penguin Prospect, Tom Kuhnhackl, will be playing Center for Team Germany.  Kuhnhackl was drafted in the fourth round of the 2010 draft comes from a great lineage at home where his father Erich was named German Hockey Player of the 20th Century.  He is currently playing for the Windsor Spitfires of the Ontario Hockey League where he has put up 17 goals and 16 assists in 33 games so far this season.  He will probably see another season with Windsor before attempting to make it to the Baby Pens.
A fourth Penguin draft pick, 2010 #1 Beau Bennet, would have made Team USA, but he was felled by an injury shortly before the tryout camp.
In what has to be a first, there are not one but two players from the Pittsburgh area who will be playing in this year's tournament.  The first is Brandon Saad from Gibsonia who attended Pine-Richland high school.  Saad has been ranked as high as the number overall prospect for the 2011 draft.  He was selected as the tenth overall pick in this past years OHL draft by the Saginaw Spirit, and he made Team USA as a forward.
The other is Patrick Wey from Mt. Lebanon who is currently playing Defense alongside Philip Samuelsson at Boston College.  Wey was drafted by the Washington Capitals, and is currently ranked as the 17th best prospect in their system.
Unfortunately, because the US and Canada finished 1/2 last year (The US won in overtime), they are in different brackets for this year's tournament and can only meet in the medal rounds.  Their regular round robin matches the past three years have all been classics and were definitely more enjoyable to watch than a Phoenix Coyotes/Florida Panthers game on a Wednesday night.  If you get the NHL Network on your cable or satellite, I can not encourage you enough to check out any of the games that are televised.  Most, if not all of the first round Canada games will be televised starting December 26th, and a few of the USA games will be shown as well.  Once the medal round begins, all game will be shown.