I would love to tell you guys that I care about the Pittsburgh Penguins vs NY Islanders game later this afternoon, I'd like to debate whether the Penguins should keep their stars out of the game today so they don't get injured, I'd also like to talk about Sidney Crosby's chance of winning a bunch of different trophies if he does play, but I'm not going to do it.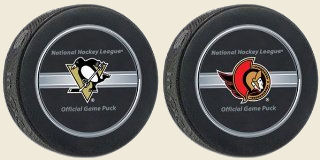 Penguins play the Senators at home 7PM Wednesday night.
The Penguins playoff opponent for the first round of the playoffs has been secured and the Penguins will have home ice advantage when they play the Ottawa Senators.  The playoffs for the Penguins will start either this Wednesday or Thursday, we will let you know as soon as it is announced. 
The Pens played the Sens 4 games this season and split the series 2 games a piece, all four games were blowouts by both teams and the stats were basically even. With all of the injuries to the Penguins this season, as long as the team is healthy in the playoffs, the regular season doesn't mean squat other than acquiring a playoff spot and maybe home ice advantage. 
Ex-Penguin and a Penguin fan favorite Alex Kovalev who was inked by the Senators in an effort to make a playoff run has torn his ACL and will not be skating for 3 to 4 months.  Daniel Alfredsson the Senators captain was honored in a big ceremony on Saturday celebrating his 1,000 game in the NHL and also his incredible diving ability.  We will have more on the in the next few days including an analysis by each of the PenguinPoop writers in the next few days.  I can't wait!