Now, I know that the Pens have been somewhat disappointing lately.  They have just two wins in their last eight games.  So most people are feeling a bit down on the Pens and their Stanley Cup hopes.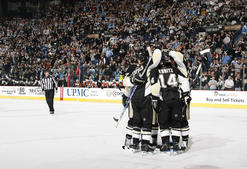 If there is one thing that can make a true Penguin fan forget about all of those woes, it is a big win over the dreaded Flyers.  I know that I somehow feel ten times better about things after having watched the Pens beat the Flyers.
Question: Would it be more satisfying; if (at  least partially aided by todays win) the Flyers did not make the playoffs or would you rather see the Pens beat the Flyers in a playoff series……..again?  With today's loss, and the win by the Bruins today, the Flyers are tied with the Bruins and the Thrashers are just four points behind.  Both the Bruins and the Thrashers have a game at hand on the Flyers.  Let's not forget that the Flyers are without the services of their top scorer (Jeff Carter) for the balance of the season.
How about another example of the NHL making up rules as they go?  When the Flyers had a goal overturned because the officials deemed that Fleury had been interfered with, but did not issue a penalty, that sort of summed up the NHL's wishy washy rules structure.  Not that I am arguing with the call.
This was a very good game for the Penguins.  I hope that they can build on this and beat the Maple Leafs at home tomorrow.  In fact, I hope the can parlay some of this momentum all the way through the balance of the season and get a good run at the playoffs.