I wasn't sure what to title this post.  It could have been "How to Make Guillaume Latendresse Look Like Gretzky" or "When the F*&% are the Pens Going to Completely Overhaul the Power Play?"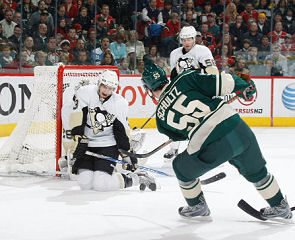 Well, how does a team make a guy like Latendresse look like Gretzky?  (This is not to pick on Latendresse, he played well.)  Apparently, you take equal portions of lazy play, two young defensemen who played like they were scared and mix it in with a less than stellar goaltending performance.  What do you get….four points for a guy who averages a point every 2.62 games.
When is the Penguins coaching staff going to throw away all of their notes on how to run a power play and start over with a completely new approach?  The power play was o-4 tonight.  The PP was positioned to change the outcome of this game.  It, however, did not take the opportunity to win.  In fact, it pretty much led to a goal for the Wild.  The Wild did not score shorthanded, but scored very shortly after the Pens failed to score on a power play.  It is time to shake the PP up.
Notes:
Letang and Goligoski played like there was killer after them.  I thought they looked scared the whole time they were out there.
The Pens generated a lot of offense, but again could not finish on many occasions.  They outshot the Wild 38-24.
Crosby continues to play well putting up a goal and two assists in this losing effort.
I guess Gonchar got a bit salty in the third period.
Man, I cannot wait until Malkin and Fleury find their groove again.
Here's looking forward to better things in Calgary.