Last Thursday morning as I was driving to the gym, I was listening to sports radio. Everyone had all the answers to what went wrong in the third period of the game and none of it sat well with me.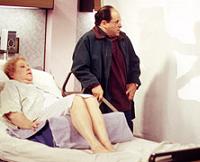 After the gym I went over to see my mother, Estelle Costanza in the hospital. She couldn't wait to ask me what I thought about the game.  I told her I really didn't not have an answer for what happened. To make me feel better about the loss, I was going with the theory that the meltdown was the Penguins' intent and these were my reasons why:
Coach Dan Bylsma was on record that he did not agree with Captain Sidney Crosby's feeling that Marc-Andre Fleury needed to play four or five games in a row to get out of his funk. Penguins had 34 shots in the first two periods of the game. A total of thirty four shots for a game would be considered a good night by the team.  The Penguins made Brent Johnson look like the goat in the third period leaving him looking like Tom Hanks, from "Cast Away".
The moral of the story is that during this game, the team banded together to follow  the words of their Captain Sidney Crosby and not Dan Bylsma.
 
At Friday night's game, Marc-Andre Fleury got the start he needed and he looked like himself winning his 150th National Hockey League game.  His confidence from that game had carried over to Saturday night against the Atlanta Thrashers.
This past week reminded me of the 1989-90 season when the Penguins opened the season with 10 wins and 14 loses. Coach Gene Ubriaco was fired. There were stories about how Mario Lemieux and Company could not get along with Coach Ubriaco. Did the Penguins of before and the Penguins of today band together to send management a message, "The team is mightier than the coach."  I don't know, but the thought is making me sleep easier.
Additional Reading:  
Crosby, Bylsma agree to disagree on Fleury – Pittsburgh Tribune-Review