Pittsburgh Penguins GM Ray Shero has a lot of work ahead of him in the NHL free agent market trying to put together a team that has the best chance to win the Stanley Cup. Ray Shero can sign Penguin players up until July 1st,  after that he can sign anyone who is still a free agent.  Here at PenguinPoop most of us have been following the Penguins since the '70's.  All of us have different opinions on just about every aspect of the Pittsburgh Penguins 2010 free agent agenda and we thought we would mix it up a bit by putting a bunch of them together right here starting with STH35 who has been a Penguin season ticket holder for 36 years: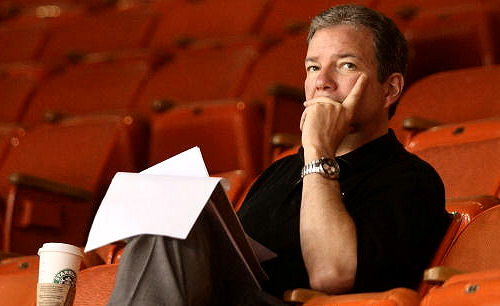 For reference:  Here are links to the 2010 Pittsburgh Penguins List of Free Agents and the Pittsburgh Penguins 2009 – 2010 Salary Cap Numbers

STH35: 
After looking over the UFA's that are available, and knowing the money that the Pens have available under the cap, Ray Shero should have an interesting summer.
The Penguins are set in Goal. They have 10 forwards and 3 defensemen under contact that played significant time for them this season. That means that they need to fill out their roster with 3 forwards and 4 defensemen. The forwards can hopefully come from their own free agent pool. If Matt Cooke's demands stay at $2 million or less, I have no problem giving him 3 years. Guerin can be brought back in a reduced role for a reduced salary from the $2 million he made this year. Have him play 55-60 games and be fresh for the playoff run. Tangradi, Letestu, or Johnson need to be ready for full time employment. There are no affordable UFA forwards that would fit well into the Pens plans.
If this can be done up front, it would leave $9-10 million to spend on defense. I would have problem bringing back Eaton and/or Leopold at the $2 million price tag. If you give the remaining $5 million to Gonchar, there is nothing left for depth. $4 million a year for 3 years is my best offer. If Anton Volchenkov or Willie Mitchell are priced in that range, I would certainly consider one of them. I think the market will be a little higher for them. 3 guys who might fit in price wise are Dan Hamhuis, 26 years old, and made $2.5 million last year with Nashville, Nick Boynton, 30 years old, and made $1.5 million with Anaheim, and Paul Mara, 29 and made $1.6 million with Montreal. Ben Lovejoy is ready for the NHL.  Actually the Penguins are in pretty good shape. The core players that are under contract is a solid strength to start with. Shero should be able to put together a contender for the 2010-11 season.

Phil Krundle: 
The Penguins needs are not that complicated. They need a few big defensemen, some very gritty forwards and a right handed sniper for the powerplay, it is that simple. Their are a few guys we will most likely not see next year. Fedotenko and Ponikarovsky are two of them. Dan Bylsma showed his dislike for them by benching them during the playoffs, Shero won't chase players that were benched. Jay Mckee, a guy that I thought was a perfect fit, will probably not want to sign, even if he was asked, after being sat after the Penguins acquired Jordan Leopold.
As far as the defense goes I would recommend signing either Leopold or Eaton but not both. Sergei Gonchar is most likely gone and Alex Goligoski will fill in better, not because he's better but because it will stop Malkin's one dimensional pass only to Gonchar on the powerplay problem. Sign and bring up Ben Lovejoy and let Brooks Orpik mentor him in the fine art of throwing a check. Signing a gritty, clear the area in front of the net, penalty killing defenseman is a must and Anton Volchenkov from the Senators fills that bill and would create an incredible one two punch along with Orpik.
On offense, the Penguins need some tough Ryan Malone type players. Signing Matt Cooke (30yr 1.2M) should be a major priority. Detroit's Todd Bertuzzi is available and would also be a perfect fit. One other big priority should be getting one or more right handed shots on the team. My number one choice would be 6ft Lee Stempniak (27YR RW shoots right) he had 14 goals in 18 games since being traded to phoenix currently makes $3.5M and probably would welcome playing for a more offensive oriented team. This problem could also be solved with the signing of Alexander Frolov from the Kings. A right handed sniper from Moscow would not only fix the lack of right handed shooter problem but would also give Malkin a fellow Russian to pal around with since Gonchar is most likely gone, in turn keeping Malkin happy and everybody knows, a happy Malkin is a scoring Malkin. Just tossing this out there: right handed shot Colby Armstrong is available and 2 years ago he had 22 goals without Crosby. He might be in the mix. Also Markus Naslund will be available this year.
The Penguins have their basic roster in place and should NEVER EVER touch that. The Dynasty will happen with them, just wait until they reach their prime. If the Penguins could sign Cooke, Bertuzzi, Stempniak and Volchenkov and fill in gaps with Lovejoy, and Tangradi they'd have a perfect volcanic mix of scoring and grit and would be unstoppable.
Jean Pronovost:
In what is now the longest off-season the Penguins will face since the end of the 05/06 season, there are some serious decisions to be made as to how the team will move forward. Not only will it be the first time in three years that the Penguins will begin a season not having made it all the way to the Stanley Cup Finals, but they will be moving into the brand new Consol Energy Center. We all know that the team has eight unrestricted free agents, and we can all say with some level of certainty which ones will definitely not be coming back. Let's just agree that Ruslan Fedotenko and Alexei Ponikarovsky have played their last games in a Penguin uniform although based on the way both played at the end of the season, no one is really sure when that official last game was. Matt Cooke needs to be kept around, but Cooke better make sure that he doesn't overplay his hand. I'm sure many teams were watching his production in the playoffs, and some team may make him a stupid offer the Penguins can't match, but Cooke also has to realize that he is a product of his environment and that he most likely performs the way he does because of where he fits in the system. I believe he and the team will come to an agreement somewhere between 2 and 2.5 million. I would like to see Billy Guerin return for one more season, but only if he is willing to take a pay cut to help the team get some more offensive weapons. If he wants to be paid the same $2 million or thinks he should get an increase, it might be time for him to get on with his life's work.
Of course, it's easy to say replace Fedotenko and Ponikarovsky, but has anyone really looked at what's available out there? Let me tell you folks, there ain't much. Most UFA wingers are either out of the Penguins' price range (Ilya Kovulchuk) or too old (Kariya, Kozlov, Whitney, Demitra, Nolan Holmstrom, Selanne). It's going to be hard for the Penguins to find a goal scoring winger out there that fits into their pricing scheme. Alex Frolov is probably the top candidate, but he made $4 million last year, and rarely do guys that enter UFA status look to take a pay cut. I'm just not sure that at his current salary or a higher one that he is the Penguins' answer. There really isn't much more out there than an Alex Tanguay ($2.5 million), Lee Stempniak($3.5 million) or a Marek Svatos ($2.35 million), and I don't see anyone doing cartwheels at the prospect of bringing any of these guys in.
On Defense, you can definitely expect Ben Lovejoy to be up here next season. He has accomplished about all that he can in he minors and is quite ready to show what he's got with the big club. It's quite possible that Deryk Engelland will get a chance with the team next season as well. The big question is what will the team do with the money they were paying Sergei Gonchar who is most certainly not going to be back. If the team decides that it needs a lock down kind of defenseman, the kind they found themselves lacking after the departures last year of Hal Gill and Rob Scuderi, then they should make a concerted effort to go after Anton Volchenkov who will most certainly be looking for a hefty increase over his last year salary of $3.2 million), or if they decide that keeping Mark Eaton along with Brooks Orpik and Ben Lovejoy gives them enough "stay at home defensemen", they could take a stab at Joe Corvo who would give them a proven puck mover a well as possible power play QB.
2009-2010 Pittsburgh Penguins and off-season of tweaking: 
When the Pittsburgh Penguins were eliminated in game 7 against the Montreal Canadians, everyone has been asking me, "Art what changes are going to take
place this off-season?"
Let's start with the easy ones first: Ruslan Fedotenko   Alexei Ponikarosky   Jordan Leopold   Jay McKee    Sergei Gonchar
I believe the Pittsburgh Penguins need to take care of three players first. These players are: Bill Guerin, Mark Eaton, and Matt Cooke. They all were very important pieces to last year's team. Once the Penguins know the future of these three players, the only thing Ray Shero will be blowing up on a Sunday morning after he had his cup of morning Joe will be the agent's cell phones of these players:
1. Tomas Holmstrom   2. Jere Lehtinen              3. Todd Bertuzzi
4. Evgeny Artyukin     5. Anton Volchenkov    6. Dan Hamhuis
.
[poll id="9″]
.
Share this with friends: