The Pittsburgh Penguins' final piece from the Ryan Whitney trade, Eric Tangradi has appeared to have finally landed for good.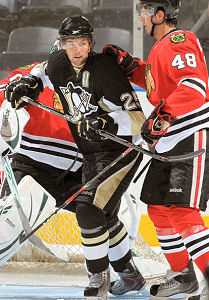 Here are some hockey adjectives that have been used by people in the hockey world to describe the rookie power forward from of all places Philadelphia:  high hockey IQ, gritty, net front presence, intense, and determined.
In a training camp game this year with the Penguin rookies versus the Chicago Blackhawk rookies, Eric finished the game one assist shy of a Gordie Howe hat trick. I wonder if you would ask Simon Danis-Pepin, a Chicago player, that was pounded by Eric. What kind of adjectives would he use to describe him.
This summer Eric arrived in Pittsburgh a month earlier than most players so he could work on his skating with power skating instructor Marianne Watkins.  Two games into the young season and it looks like those lessons are paying off. Eric has been skating hard and wreaking havoc in front of the net.  He is throwing punishing hits, like the one he threw on that stink bug Mike Cammalleri from Montreal, and best of all he  looks good playing on the same line with Geno.
Here is a favorite clip of mine, it is of Eric playing in the World Junior Championships against Canada.
I'm sure most of you have seen it, but for those who haven't this is what Ray Shero stole from the Anaheim Ducks. The thought of cheering for a player from Philadelphia and now playing for the Pittsburgh Penguins makes me think of a quote from Dr. Peter Venkman from Ghostbusters. "Human sacrifice, dogs and cats living together….mass hysteria" Hey, if the kid keeps playing like this it wouldn't matter to me if he was from the planet Mars and bleeds green, I'm cheering for Eric Tangradi.