On the eve of Pittsburgh's quest to defend the Cup, Ray Shero is trying to sign a few players to keep the players focused on hockey and not on contract negotiations. Brent Johnson who has been the Penguins backup goaltender all season signed a contract extension for $.6 million for two years. I'm guessing that means that plans to use John Curry the baby Penguins goaltender as the back up next year will not happen.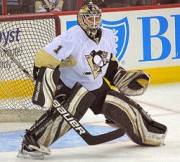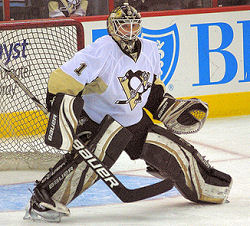 I'm hoping Shero tries to ink some defensemen today also, Leopold, Eaton, Gonchar & Mckee are all unrestricted free agents next year. We will keep you up to date this afternoon.
UPDATE: From the Penguins web site –  "The Pittsburgh Penguins have signed defenseman Carl Sneep and goaltender Patrick Killeen to entry-level contracts that begin for the 2010-11 season, it was announced today by executive vice president and general manager Ray Shero."
You can read the Penguins signing announcement here: Penguins Sign Goaltender Brent Johnson to Two-Year Contract Extension
Here is the Pittsburgh Penguins Salary Chart:  "Pittsburgh Penguins 2009 – 2010 Salary Cap Numbers"
.