*UPDATE from JLPens:   Minor Matters – To follow up on a previous story, the Wheeling Nailers will play 10 regular season and 1 pre season games in Johnstown next season. Appears the Brooks Brothers theory is that 36 home games is too much for a small market fan base to support and they want to experiment with fanning a few out. As for Johnstown, they also had interest from the IHL and the new Federal League but neither will be coming here in the near future but my guess is that if the Federal league (A Class) can establish themselves in their current markets, they may be coming on for 2011-12. After all, we pretty much got used to watching A Class talent here this year anyway…..
Original Story:
According to Shawn Rine at the Intelligencer – Wheeling News Register the Pittsburgh Penguins farm team the Wheeling Nailers is in negotiations to play part or all of next season's home games at the Cambria County War Memorial in Johnstown, PA that is if the Johnstown Chiefs definitely move to South Carolina. The Nailers lease is up this year and this could possibly be the Nailers owners Rob and Jim Brooks shrewd way of bargaining a better lease at the WesBanco Arena in Wheeling.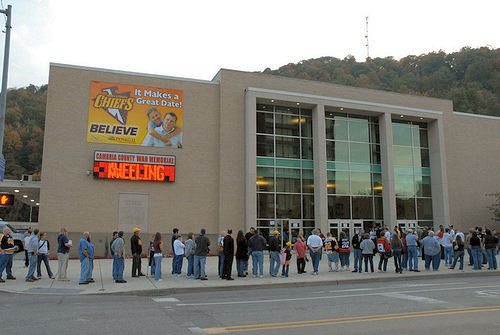 Denny Magruder the Wesbanco Arena Executive Director is in the dark and is very upset with the way the Nailers owners the Brooks Brothers are handling the rumors of the move which culminated with Jim Brooks answering "No comment at this time" on Sunday.
There is also the possibility that the Nailers are trying to up and move the team to Johnstown for good. The attendance in Wheeling has been down and the fans are not very happy with the condition of the facility. Johnstown is about 1 1/2 hours closer than Wheeling is to Wilkes-Barre Scranton which would make it easier for the players to transfer back and forth from the Nailers to the Baby Penguins.
The attendance has been lower in Johnstown this year also, mainly because the Chiefs did not have an NHL affiliate (Columbus or Colorado) and used all castoffs to keep them in the bottom of the league (remind you of a movie?). One thing that might be hindering this from being announced is a the Memorial's troubles with Roustan United from Richland Township and now their new affiliation with SMG of all places.  They might also just be waiting until the end of the Chiefs season in a little over a week.
You can read more on this in the Intelligencer: "Brooks Brothers Caught Again"
Thank you to the PenguinPoop Johnstown affiliate JLPens for the headsup!
Share this article using: