The Pens are back from their road trip worse for wear, but with a little good news, even though John Curry is penciled in as goaltender tonight Marc Andre Fleury did practice some this morning.  Brooks Orpik has been cleared to play and is might be in the lineup tonight. The Islanders chased Martin Brodeur out of net last night after two periods and the Islanders with their main goaltender Rick DiPietro back in the lineup shut out the Devils.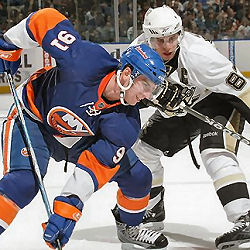 The next Sidney Crosby or the next Evgeni Malkin or the next Mario Lemieux, John Tavares of the Islanders will make his first appearance at the Igloo tonight. Tavares' numbers are just not there yet. Crosby had 102 points his first season, Malkin had 85 and Lemieux had 100. Tavares currently has 31 points in 49 games which is on pace for 52 points this season, numbers more like the next Stamkos or next Lindros.
The last two teams the Penguins beat, the Oilers and Flames both lost last night by a combined score of 15-1.
Mike Yeo is back working practices and will be assisting behind the bench tonight.
Where is the love? Rob Rossi who we accidentally complimented last week, just joined Ron Cook's withered journalistic form of "let's kick our superstars when they are down and chase them out of town" with his article: "Malkin paid like Crosby; needs to play like him"    Clark & Heptner no longer the "Suburban Rob Rossis" summed it up perfectly: "Change Is Necessary".  How about tonight at the game we cheer Geno! Geno! Geno! all night.
Petr Sykora was placed on waivers today by the Minnesota Wild, his salary is $1.6 million and would be half that on re-entry. Hmm…
Fedotenko and Talbot are penciled in as Malkin's line mates tonight. They have a combined 9 goals on the season, is this the best way to break Malkin out of his slump? I wrote this last April "Malkin Needs a Winger Sooner Rather than Later"…sooner never happened, if later could happen now, that would be great. 
Speaking of Talbot… Everyone is expecting too much from this guy. The most goals he ever had in a season is 13. He is not a big goal scorerer and he is not paid like a big goal scorer, yes he had a great game in game 7, stop expecting him to run up the numbers and you will like him much better.
If Curry is in net tonight, he will be facing a red hot Islander team that has won 4 games in a row and peppered the notoriously defensive playing Devils with 46 shots last night.  Yoi!
Brent Johnson was cleared to suit up tonight also.  Most likely as backup.
The AHL All-Star Game is tonight, Dustin Jeffrey is the only WBS Penguins player that will be playing.
Best Goal Ever – Here is the video of what many are calling the best goal ever:
 Geno! Geno! Geno!
Game time is 7:30 pm and can be seen in HD at Igloo or at home on Fox Sports Pittsburgh.