The Penguins take on the Calgary Flames tonight at 9:30PM it will be shown in HD on Fox Sports Pittsburgh.
Minnesota Wild's Cal Clutterbuck is upset with the elbow that Sergei Gonchar delivered to his chops on Monday Night Clutterbutt said about Gonchar: "He better hope he retires at the end of the year, I'll tell you that, somebody's going to hurt him before the end of the year. Someone will. It's not going to be me, but someone will." Below is the video of the incident, check out the left his feet, late hit cheap shot at the very very end of the video that Clutterbutt threw on Gonchar that inspired the elbow to the head.
Luca Caputi came up and played five games with the Penguins last year. He scored a goal the first game and had no points in the next four. Slowly his playing time dwindled to 6 minutes the 5th game and they sent him back down to the WBS Penguins. This year he came up and Scored a goal his first game, had and assist in the second game, and scoreless in the third & fourth, his playing time is dwindling and he was a minus 2 last game. I'm starting to see a trend.
The Penguins game in Philadelphia on January 24th was changed from 3PM to 12:30PM to accommodate NBC's coverage of the game.
Goaltender Curtis Joseph who played for the Calgary Flames 2 years ago retired from the NHL yesterday #4 in all time wins with 454.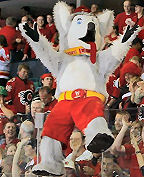 Calgary's mascot Harvey the Hound was the first ever mascot in the NHL. He made his NHL debut February 16th of 1984 when the Penguins were visiting the Olympic Saddledome. The Pens were routed 10-3 in a game that had two Calgary players register hat tricks (just another game that helped us get Lemieux). In 2003 when Harvey the Hound was behind the bench taunting the Edmonton Oilers, Oiler coach Craig MacTavish who's team was losing 4-0, ripped out Harvey's big red tongue.
Last year going into the only game that the Penguins played against The Calgary Flames the Pens powerplay was at a horrendous 16.9%, and I bet at the time you were thinking it couldn't get any worse. It currently at 14.3%