Hi again folks.  Old Reg has been invisible for a while now.  It turns out my day jobs and other responsibilities have been taking over recently.  I did want to take a few minutes to jot down a few thoughts I had at this point. 
1.  It turns out that maybe Sidney Crosby was right about Marc-Andre Fleury.  Crosby told reporters that MAF needed to play 5 games or so to get his rhythm back.  It seems like maybe he has gotten said rhythm back.  (Or at least let's hope)  Over Fleury's past 7 games, he has recorded a 6-0-1 record.  He has looked pretty good in each of those starts.  I, for one, am hoping he can continue to play like that and lead this team to the promised land.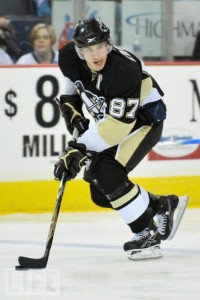 2.  Speaking of Crosby, he is good.  After scoring a hat trick in the Pens victory over the Calgary Flames, he leads the league in scoring.  Not bad after a "slow" start.  Did anybody realize that had he made the penalty shot against the Flames, he would have topped Mario Lemeiux's "unbreakable" record of scoring 5 goals in 5 different ways.  Lemieux   scored at even strength, on the power play, short-handed, a penalty shot and an empty netter.  Had Crosby scored on that penalty shot he would have scored a penalty shot, an even strength goal,  a power play goal and on the same shot an empty netter and a shorty.  So, he would have accomplished what most have said would never be duplicated, in four goals instead of five.
3.  It seems like Kris Letang is starting to realize the potential that he has shown over the course of the last couple 
   seasons.  He is playing very well in all aspects of the game.  Sure he has a untimely turnover here and there, but overall this kid is playing awesome.  He is hitting the net with more regularity than we have become accustom to, he is playing well in his own end, he plays with an edge and he is getting more comfortable on the power play.  As of the time I wrote this, he second in the league in scoring among defensemen.  It shows that, as fans, we must have patience with players like him. 
4.  That leads me to Alex Goligoski.  This kid has a ton of potential.  He is far from realizing his own potential right now, but it will come.  We must be patient with Gogo.  For all the complaints about his turnovers and weak play in his own end, he is tied for second on the team with a +6 rating.  I would love to see him get the confidence to shoot more and shoot quicker.  Don't give up on this kid.
* Just in case you are wondering how Letang and/or Goligoski are doing in their effort to fill the void left by Gonchar.
Gonchar               4 goals 10 assists 14 points -12
Letang                  4 goals 18 assists 22 points + 11
Goligoski              5 goals   7 assists 12 points + 6
5.  Pascal Dupuis is doing an admirable job trying to fit in on a number one line with Crosby.  He does not have the skill to do so and be as effective as the Pens wish him to be or Crosby needs him to be.  I cannot fault him for that.  He plays hard and does a great job on the penalty kill.  The problem I have with Dupuis is the fact that he never beats another player to a loose puck.  I have heard for years that his best quality is his speed.  Why is it then, that he never wins a race for a puck?
6.  So, just over a quarter of the way through the season and I want to revisit my thoughts on the new arena.  Though, I am still largely unimpressed with the whole thing, I am finding that some things seem to be getting better.  It is probably a combination of my learning the ways of the new building and the fans getting used to everything.  The one thing I still find the most annoying is the lack of etiquette among the fans in regards to not getting up during play (Especially those that thousands of people that must leave with like 2 or 3 minutes left to beat the traffic).  I did not have to deal with this in the Igloo as I had a front row seats in the balcony.  Now my seats are ¾ of the way back.  People are constantly getting up in the middle of action.  People need to know the etiquette.  Maybe more importantly, the usher should be controlling the flow of people.  The usher in our section is MIA during the course of play.   There are still long lines everywhere, but it does seem to be a bit less than at the beginning of the season.  Maybe this will continue to get better as people get accustomed to the new building.
7.  Malkin needs to be putting more points on the sheet. 

8.  The chemistry seems to be coming together, finally.  Michalek and Martin are beginning to show why they were brought on board.  Maybe, now that the team seems to be playing better, Bylsma will allow lines to stay together for more than 2 shifts.  Let's not forget that we still have the return of Jordan Staal to look forward to. 
9.  It is nice to know that the current version of the third line is continuing to play very well without Staal to lead the way.  Mark Letestu has done a very nice job filling in for Staal.  This will make it easier to put Staal up with Malkin.
It seems like the things are starting to come together for the Penguins.  Let's hope this leads to another long run into the Stanley Cup Playoffs.