Alexei Ponikarovsky had his first practice with the Pens this morning. Any other team in the NHL bringing in one player too many would cause locker room turmoil, players would turn on players, maybe even deterioration of friendships.
Not on the Pittsburgh Penguins. Every Winger and every defenseman on the Penguins is aware that their job is in jeopardy. They didn't start complaining to the media, they didn't start fighting amongst themselves. The group that Ray Shero has put together went out last night and tried to earn their job. The Penguins as a team yesterday out shot the New York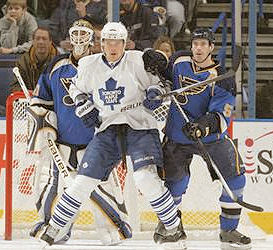 Rangers 55-16, granted Marc-Andre Fleury didn't have a stellar performance, but I do not recall seeing such lopsided numbers before, especially against a Rangers team who's fighting for a playoff spot.  Pascal Dupuis had 10 shots on net himself.
With the Penguins picking up winger Alexei Ponikarovsky and defenseman Jordan Leopold right before the trade deadline, the Penguins currently have one extra defenseman and one extra winger on their roster. I realize that the Penguins have gone all season with Martin Skoula on the bench as one extra defenseman, but every defenseman on the team knew if they were healthy that Skoula would be the one sitting. That is not the case now.
Because Billy Guerin had back spasms yesterday the Penguins played 7 defensemen and though Jay Mckee got the very short end of the stick in playing time, it was mainly because he is a defensive defenseman and the Pens were down most of the game and needed some scoring. On Saturday winger Ponikarovsky will make his Penguins debut and if Billy Guerin is healthy, the Pens are going to need to bench a winger and a defenseman.
As far as defense goes, it looks like Eaton and Mckee are the odd guys out and coach Bylsma will probably rotate them in and out, especially with all of the back to back games coming up. With how much the Penguins defense gets hurt, I imagine nobody will be sitting for long anyway.
The new trade acquisition Alexei Ponikarovsky plays left wing. The Pittsburgh Penguins organization has said that Ponikarovsky will be playing on a line with fellow countryman Ruslan Fedotenko and Evgeni Malkin. You will have to assume that they will not break up the Geurin-Crosby-Kunitz line or the Cooke-Stall-Kennedy Line. That leaves a hand full of players. We are leaving Fedotenko in the odd man out scenario because he is also normally a left winger and when you look at the numbers, he obviously needs to start earning his keep.
Here is a list of Players in the odd man out scenario:
| | | | | | | |
| --- | --- | --- | --- | --- | --- | --- |
| Name | POS | GP | G | A | PTS | +/- |
| Pascal Dupuis | L | 63 | 14 | 12 | 26 | +1 |
| Ruslan Fedotenko | L | 62 | 9 | 16 | 25 | -14 |
| Mike Rupp | C | 64 | 12 | 4 | 16 | +3 |
| Craig Adams | R | 64 | 0 | 8 | 8 | -8 |
| Maxime Talbot | C | 30 | 1 | 4 | 5 | -4 |
It would be very hard to make a case for Fedotenko over Dupuis, but I believe for the first few games he wins out by default to make Ponikarovsky's assimilation easier being that he is from the Ukraine also. Either Rupp or Talbot will be needed to center the 4th line, and I can't see them sitting Rupp, he's been having quite a season.
So, the way I see it, Fedotenko, Talbot, Adams and Dupuis will be fighting for the three winger positions left and I imagine that barring injury that Adams and Fedotenko are going to end up at the bottom of the barrel fighting for the last spot.