This might not seem at first like that bold of a prediction considering Evgeni Malkin won the scoring title two years ago. In 67 games last year Malkin managed only 77 points and finished 19th overall in scoring. Not that shabby considering he was not only hampered by a shoulder injury most of the season, he was also hampered by the lack of a consistent line mate.  Tonight Malkin starts out the season with a new line, in a new position and fresh from an easier off season where he didn't have to show up at a bunch of Stanley Cup parties and try to perfect his English all at the same time.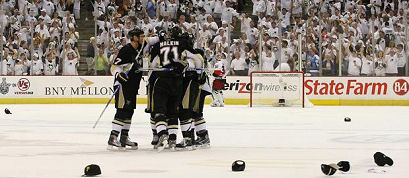 The entire pre season all you heard about was bringing Jordan Staal up to center Malkin's line and moving Malkin to wing. No one is sure why the Pens wanted to move Malkin to wing so bad but speculation was his horrible face off percentage and a pretty bad plus/minus. When it was announced that Staal was not going to be starting the regular season because of a foot infection, you couldn't help but think here we go again like last year when Malkin waited for Max Talbot to come back from injury so he could have steady line mate.
Enter Mike Comrie, a center who could easily put in 30 to 50 goals on Malkin's wing. Even though it was rumored that Comrie was being brought in as a winger for Crosby, you could not argue with the instant success he had this pre-season centering Malkin's line. Comrie who had drifted from Edmonton around the NHL just to end up in Edmonton again last year signed with the Penguins for league minimum, even though he could have gotten much more elsewhere. 
Also enter winger Eric Tangradi. Tangradi who has only has 1 game to his NHL resume has been an extra added bonus this pre-season. Brought in from Anaheim in what has to be considered one of Ray Shero's best trades ever, Tangradi has also found instant success on the same line. His biggest asset is his ability to cause traffic in front of the net. When you watch the goals scored this preseason, one of the biggest factors in many of them has been his ability to go to the net. The Penguins like this kid so much they demoted him last night to Wheeling just so he could play tonight. (Long Story)
Malkin likes to step it up big time when the media forgets him and goes all out on Crosby and Ovechkin. Maybe it is jealousy beings that he's Crosby's teammate and he goes to Ovechkin's birthday parties, or maybe he thinks rightfully so that the pie should be divided three ways. With the media bearing down on Crosby and Ovechkin for the Winter Classic, believe me when I tell you that Malkin will want to rain on that parade and get some of that attention for himself. If my math is correct, three months of Malkin trying to prove himself combined with consistent steady line mates and a resurgent Pittsburgh Penguins power play equals another scoring title. 
My prediction is that if Evgeni Malkin stays healthy, he will easily win the Art Ross scoring title by 10 or 20 points and perhaps finally shut up once and for all the few ignorant Pittsburgh fans who dared suggest trading him this off season.