When the Penguins traded defenseman Ryan Whitney to the Ducks for Chris Kunitz around the trading deadline of the 2008/09 season everyone was proclaiming that Sidney Crosby will finally have a solid winger. Things didn't go well right from the start, Crosby was out with injury and Kunitz was plugged into a line with Jordan Staal. He started out on fire, then slowly his numbers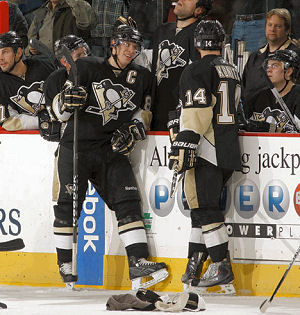 tapered off, by the time Crosby got back into action, things just weren't clicking like everyone was hoping.
Last year Kunitz was the one injured missing 34 total games, making it impossible to get any solid time to work with Crosby. Even when Kunitz was healthy he just didn't seem to be putting up numbers or fitting in great anywhere. There were thoughts that perhaps he was an overpaid role player and that his salary could be used to find Crosby a winger that would fit in better.
Crosby himself has been a hard nut to crack in that even in the Olympics, there really wasn't anyone even Rick Nash that was able to work well with Crosby. People were talking about how great they played, but that was just two great players on the ice, not chemistry. For a while Crosby found chemistry with winger in Billy Guerin, but that wasn't all it was cracked up to be. Guerin's age was a hindrance as he was unable to keep up with Crosby and many of Guerin's assists were from sending Crosby on breakaways.
Finally 30 games into this season we are seeing a magic form between Kunitz & Crosby that has yet to be seen with any Crosby winger. The last five games Kunitz has figured in on 6 of the 9 points Crosby has had. Figuring in is soft, he is directly responsible for 6 of the 9 points Crosby has. Whether it be one timing a puck in the net, a nifty Wayne Gretzky like saucer pass or the incredible cross crease passes, it is amazing to watch. Kunitz even made a great pass to Crosby which would have given Crosby a hatrick at the end of the Columbus game, and Crosby decided to send it back to Kunitz. The chemistry is there.
Everyone was looking for a goal scorer for Crosby when all he really needed was a setup guy. Crosby has finally got a winger he can work with and if both stay healthy we should see some great numbers this year.