Through five games Sidney Crosby has less points than at the beginning of any of his 6 NHL seasons. The Penguins aren't quite ready to send him down to the minors, but there seems to be something missing from Crosby's game. Each year it would seem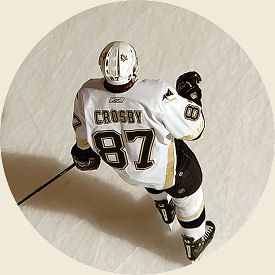 that Sidney Crosby adds something to his repertoire. Last year he worked on his shot during the summer. This off season, whether he would tell you or not, he obviously worked on his slapshot. While his new slapshot is wicked, the accuracy is just not there yet. I don't have a how many times number for you, but Crosby is dinging the puck off the red pipes more times than I can remember. I have no doubt that the goals will come with time. 
| | | | | |
| --- | --- | --- | --- | --- |
|  Season |  G |  A |  PTS |  PensW/L/T |
| 05/06 | 2 | 6 | 8 | 0-1-4 |
| 06/07 | 2 | 4 | 6 | 2-3-0 |
| 07/08 | 2 | 4 | 6 | 2-3-0 |
| 08/09 | 0 | 4 | 4 | 2-2-1 |
| 09/10 | 4 | 1 | 5 | 4-1-0 |
| 10/11 | 1 | 2 | 3 | 2-3-0 |
What does seem to be missing from Crosby's game is his willingness to go to the net. There has been word of a hip injury that Crosby sustained during the pre-season that has kept him from practicing with the team a few times and caused him to miss a preseason game he was scheduled to play in. This hip injury is most likely what has caused this scoring slump. In past Crosby hasn't been afraid to mix it up in close, this season he's been hanging around the outskirts.
If Crosby does have this hip injury, it doesn't make sense why Dan Bylsma keeps playing Sidney Crosby on the penalty kill. I understand putting Crosby out at the end of a penalty kill if the other team is trying to play their best players too long. Having a fresh Crosby out there against another teams worn down players is not the worse idea ever..  especially if the Penguins are losing. 
Having Crosby start off the penalty kill unit like he did last night makes absolutely no sense. Killing a penalty is very hard work. Not only is having a player of Crosby's ability get worn down for this is a waste of talent, Crosby has skated off the ice limping twice this season already after blocking shots, is it going to take him sitting out 2 months with a broken foot for this to change? 
At 6PM tonight when the Penguins face the Philadelphia Flyers I have no doubt that Crosby's adrenaline will kick in when the fans start chanting "Crosby Sucks". Crosby has pretty much owned Philly in Philly since his first game there 5 games into his NHL career when he had a goal and an assist, hopefully this will be a good kickoff to his season.